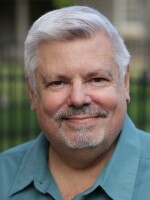 John Kalani Zak
Host, Classical Music
John Kalani Zak, the son of an airline executive father and a journalist mother, was born in Washington D. C. He has lived in and traveled to many locations around the globe, and is delighted to call Hawaiʻi his home.
Hawaiian ways and traditions have captivated John for as long as he can remember. He had the joy of making several documentary films, including Hawaiian Healing and Pule Wailele, which screened at the HIFF and Maui film festivals in Hawaiʻi and overseas. Other projects include a book, Hawaiian Massage Lomilomi, Sacred Touch of Aloha.
In addition to duties as an on-­air host with Hawaiʻi Public Radio, John is a voice-­over actor, producing and narrating books for Audible.com, among other projects.
Past work includes producing and/or directing daytime serials, including The Bold and the Beautiful, One Life to Live, General Hospital and The Young and the Restless. John has received 7 national Emmy nominations, an Emmy Award, and was nominated for a Directors Guild of America Award. He is a member of the Hawaiian Historical Society and the Kailua Hawaiian Civic Club.
Zak is also an avid photographer. He loves all forms of music, from Hawaiian, to classical, to Brazilian jazz, to Bulgarian folksongs.

Kenneth Burtness planned on a quick stint in the military after joining the ROTC. Little did he realize that his military experiences would change the course of his entire life.

People go into the military for many reasons. Perhaps it's because they receive a cordial invitation in the form of a draft notice or they want to serve their country and see the world. Perhaps they join the service to escape family strife or relationships that have become untenable. Michael Doolittle and Marcia Brinkley, discuss some of his reasons for joining the military. Doolittle also shares some of the unnerving experiences faced during his time in Vietnam.

Imagine that one day you're enjoying a rather blissful life assigned to Fort Bliss, Texas. And a few days later you find yourself in the sweltering deserts of Saudi Arabia because of Saddam Hussein's attacks on Kuwait. That's exactly what happened to military spouses Leslie and Michael Carroll.

John Zak hosts an hour-long special that honors those who have served. Listen to stories from Hawai'i residents about their experiences in and with the military.

As a young man, Steven Jensen dedicated himself to helping others. He noticed that veterans returning from Vietnam were having difficulty with civilian life. These observations helped to inspire Jensen's desire to become a Navy chaplain.

Col. Jennifer Walker always wanted to be a doctor. The Army offered her the education she needed and the opportunities she sought to hone her skills as a physician. She and her husband, Chad Walker, discuss her distinguished 20-year career.

A self-described risk taker, Alexandria Suthard possessed an exuberant love of languages, foreign cultures and adventure that inspired her to join the Air Force as a public health officer, followed by assignments in the U.S. Department of State. Some unexpected incidents tested her in ways she couldn't have imagined. She shares some of her story with Hazel Diaz.

The latest on Ramona Okumura, a former Hawaiʻi resident and humanitarian worker stuck in Gaza; Resident safety amid a fire in a remote area of Mililani; A U.S. Department of Agriculture plan to spread non-native seeds on the burned landscapes on Maui; The benefits of freight farming; Today's edition of "StoryCorps: The Military Voices Initiative"

Michael Last was working and going to night school when the Army informed him that it had other plans for his future. During basic training, Michael discovered that nonconformity in any form was not an option, even on his day off.

Oʻahu infestations of little fire ants are on the upswing; Department of Education official optimistic about future initiatives; Big Island resident opens up about living with 'post-polio syndrome'; and a combat medical officer talks about life defined by Vietnam War experience