Eating Around: The 'Japanese Turn' in Fine Dining
Today, nearly thirty years after the Hawai'i Regional Cuisine Movement began, it's hard to believe how much eating in Hawai'i has changed. Recently, a Pomona College Professor was at UH M?noa discussing the Japanese influence on fine dining and how Honolulu's contemporary food scene has roots in that evolution.
CC_NoeTanigawa052919.mp3
Noe talks with Catherine Cruz on The Conversation about the evolution of Japanese culinary education, advent of nouvelle cuisine, and the merger Professor Yamashita calls the "Japanese Turn."
SamWeb1.mp3
In this extended interview with Sam Yamashita, he goes into Japanese culinary education and its evolution, what was happening in France, developments in New York City, and particular dishes that exemplify the trends.
History professor Sam Yamashita is from Hawai'i, he knows we grow up with party buffets that feature sushi next to chow mein next to pork adobo, kal bi and barbecue ribs. Still, in 2011, when his tasting menu at respected LA restaurant, Providence, opened with raw fish.
"On the mainland, it was strange," says Yamashita.
We in Hawai'i have no idea how mind-bending a French-Japanese combination is to most people. So, how did it happen? Yamashita began charting what he calls the Japanese Turn, a 48-year evolution of Japanese influence on fine dining that he asserts has extended to widespread acceptance of Japanese cooking techniques, presentation, and ingredients.
According to Yamashita, in the 1960's and 70's in France, there was a move away from heavy sauces and long cooking times. That move, not just by chefs, but by writers, came to be called Nouvelle cuisine, and opened the door to Japanese minimalist techniques.
Also, in 1970, Japan's first World's Fair was held in Osaka, and the international chefs who came for the occasion made a huge impact.
Yamashita says the way chefs were educated went from an informal route inside certain hotel chains, to training in culinary schools. These schools had a well- established system of placing students in particular kitchens with particular chefs as part of the curriculum. Georges Mavrothalassitis, the James Beard award-winning local chef, says even before he opened his first restaurants in Provence in 1978, he was already seeing 2 or 3 Japanese line chefs in many, many kitchens.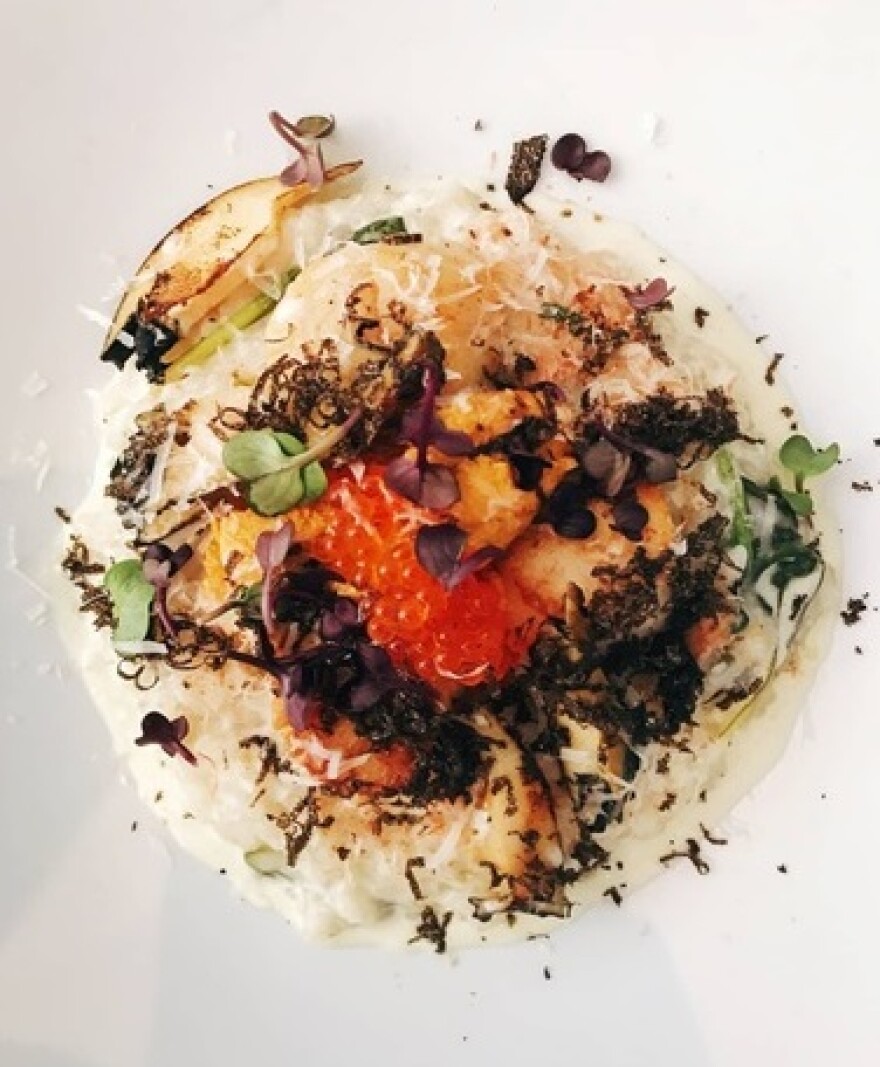 "When I was working in three Michelin star restaurants, I always saw Japanese everywhere. What happened, it was a kind of cross communication, fusion, between Japanese and French. They bring, also, a kind of Japanese minimalist way to cook and they influenced very much la nouvelle cuisine Francaise."
This in-depth student exchange and the evolution it sparked is, conceivably, how Japan seeded its current crop of Michelin starred restaurants. The Michelin Guide Tokyo 2019, handed out stars to 230 restaurants, far more than any other city. Of these, 13 have received three-stars -- the highest designation.
Yamashita points out that French chefs were denying Japanese influence in the 1970's—the thought of putting a raw piece of fish on a plate was almost insulting----but by the 1990's, Japanese influence was widely acknowledged—by many, not by all.
So what are examples of Japanese influence?
Presentation and plating was influenced by Japanese kaiseki. People have made fun of the misshapen plates and tiny portions, but nowadays we're not at all surprised to get a big shrimp head with crispy fried antennas decorating something. And people love those sriracha mayo abstract doodles across everything, not that that's Japanese---it's more an exuberant American reaction to the idea of decorative food.
What about Japanese influence on cooking techniques and ingredients? Yamashita cites two pieces of katsuo bushi perched on an appetizer at a famous French restaurant in Amsterdam. At Allen Williams' French restaurant in London, Yamashita saw a sous vide bass with kombu. Yamashita says the influence on techniques is primarily in terms of ways to increase the umami quotient in a dish, by using kelp, miso, mushrooms, and especially dashi.
He calls the widespread adoption of dashi the most telling example of Japanese influence, saying, "When chefs use dashi or when chefs think about umami, what they're doing is actually managing the flavor profile of the dishes they're making."
Now, Yamashita says, Americans are accustomed enough to Japanese food that excellent examples of Japanese sushi, tempura, and other foods are opening successfully. Yamashita cites Sushi Sho as a prime example of a top-flight culinary experience now available in Hawai'i. That's the high end, but influence is broad as well, with teriyaki burgers and wasabi Doritos fairly commonplace. Yamashita says our familiarity with Japanese preparations and ingredients indicates the cuisine has been normalized even in wider American culture.
For Hawai'i, Yamashita, says our contemporary culinary history has roots in the Japanese fusion story as it played out in Los Angeles.
"Los Angeles becomes extremely important because in the early 1980's you have the emergence of California cuisine, inspired by nouvelle cuisine. Roy Yamaguchi graduates from the Culinary Institute of America in 1976, finds his way to Los Angeles and he ends up at the best French restaurant in L.A. called L'Hermitage. Roy then is hired to cook at two French restaurants, and during that period Roy invents what he calls Euro-Asian cuisine. And he dates it, 1980. Of course, this is what (Wolfgang) Puck is doing, this is what other chefs in L.A. are doing, and Euro-Asian cuisine becomes the vehicle for the Japanese Turn in L.A."
Chef Roy Yamaguchi, founder of Roy's restaurants, says, "They were doing something new, and it was exciting it was like a new territory and at the same time. the customers who were going to those restaurants were going, Wow, this is cool, this is different!"
Exciting times---What was Yamaguchi's first Euro-Asian dish? And why did one reviewer say his servers looked like Siberian refugees? That's ahead in our next installment.