Talk Shows:Listen again to your favorite talk programs on HPR-2!Local News:News features and series from HPR's award winning news departmentHPR-2 Program Schedule:find out when all your favorite programs are on the air on HPR-2! Or you can find out more from the HPR-2 detailed program listings.
Ponoiwi: Living Bones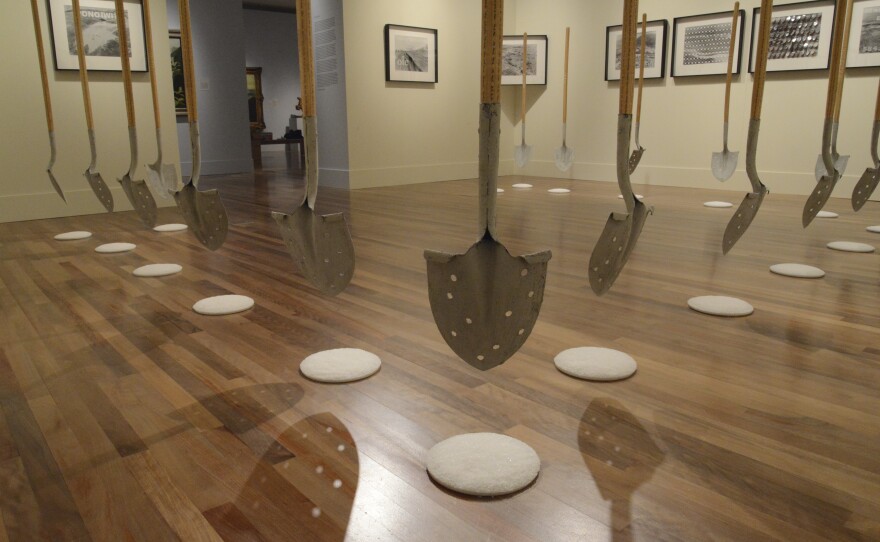 Ponoiwi installation at the Honolulu Museum of Art
Kapulani Landgraf
Kapukaulua — The coral sands from the beaches of Kapukaulua to På'ia were mined for seven decades to manufacture hydrated lime for the processing of sugar cane, construct roads and buildings. Native Hawaiians buried their ancestors in the sand dunes.";s:3
Kapulani Landgraf
Ponoiwi installation
Kapulani Landgraf
Nå Hono a Pi'ikea — The design on Nå Hono a Pi'ikea represents the traditional Hawaiian burial pits, the text in the circles are terms used by contract archaeologists that are hired by development companies. ";s:3:"u
Kapulani Landgraf
Ponoiwi installation
Kapulani Landgraf
Pu'u Néné — Pu'u Néné was once a cinder cone, which was mined by the U.S. military to build a Naval Air Station on Maui during the mid-1940's. The heiau of Papanéné was located at the base of Pu'u Néné.";s:3:"uri";s:29:"
Kapulani Landgraf
Ponoiwi installation
Kapulani Landgraf
Ke one lele o Kama'oma'o — In 2006, a study reported over 4 million tons of Maui sand was used for concrete. The report noted that Ameron and Hawaiian Cement together barged 244,000 tons of sand per year while 74,000 tons of sand were used on Maui.";s:3:
Kapulani Landgraf
Ponoiwi installation
Kapulani Landgraf
Wai'ale —In 2011 sand from Wai'ale was gathered by Ameron Hawai'i and shipped to O'ahu on a 4,000 ton barge for use in construction. The text engraved in the image lists the recommended archaeological firms on the State Historic Preservation website.";s:3:"uri
Kapulani Landgraf
Ponoiwi installation
Mark Hamasaki
2013 closed with a wave of proposed developments, particularly on Maui and O'ahu, where commercial development has, at times, meant a clash between culture and change. An installation on view now at the Honolulu Museum examines the history of sand mining on Maui, linking it to the cement being poured on O'ahu. HPR'sNoeTanigawa reports.
"Ponoiwi", an installation by Kapulani Landgraf, continues through January 19th at the Honolulu Museum. See the slide show here for a sample of images. Many more of Landgraf's singular photographs of Maui are collected in a volume entitled, "Na Wahi Kapu o Maui."
Kapulani refers to this quote from Dana Naone Hall:
"What we're honoring is the intent of the family members who placed that individual in their resting place those many years ago, that they have a right to stay there, that is their home and we as living descendants must honor that right, and that in doing so we affirm who we are as a people and that we too have a place here and it comes from the bones of our ancestors."
You can find images and a little more on Kapulani Landgraf by the former gallery director of the Maui Arts and Cultural Center, Darrell Orwig, here.