The Conversation: The Move to Get Students in Classrooms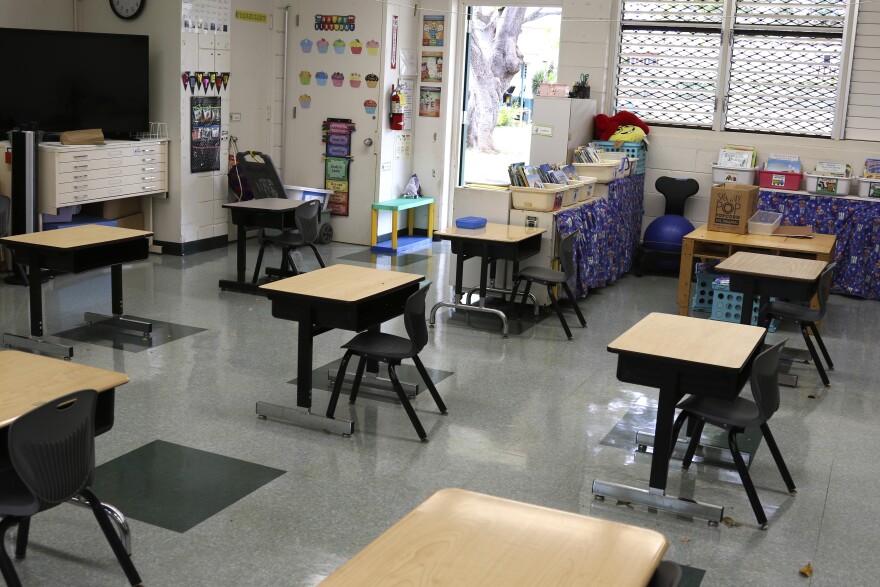 Superintendent Christina Kishimoto on the move to get students in the classroom; Mobile vaccine clinic at an old remote fishing village; Saying goodbye to Sears retail stores; Reality Check with Civil Beat; Coffee farmers battle a coffee leaf rust
Superintendent Christina Kishimoto on the move to get students in the classroom
There is a big push to get some 94,000 public school elementary students back into classrooms with face-to-face instruction over the next few weeks. DOE Superintendent Christina Kishimoto spoke with us about the layered COVID-19 mitigation strategy in schools, the different strategies to keep students separate when eating, and the latest budgetary concerns around IT services and full-time employees.
SuptKishimoto_040121.mp3
Department of Education Superintendent Christina Kishimoto
Mobile vaccine clinic at an old remote fishing village | Full Article
The old Hawaiian fishing village of Miloli?i on Hawai?i Island is on its way to achieving herd immunity against COVID-19. This past weekend, nearly half of the residents in this remote South Kona community received their coronavirus vaccine. HPR reporter Ku'uwehi Hiraishi shares how the town's 300 residents received the vaccine with the help of Bay Clinic, Inc.
KuuwehiMololii_040121.mp3
HPR reporter Ku'uwehi Hiraishi
Saying goodbye to Sears retail stores
The retail giant Sears is closing its stores in Pearl Ridge and Hilo, and there are signs the retailer may close the Maui and Kona stores as well. Kay Day, a longtime leasing agent for Ala Moana Shopping Center, spoke with us about the history of Sears on the islands and the changing retail climate. We also spoke to people shopping at the Pearl Ridge store who remember Sears as their reliable one-stop shop.
Sears_040121.mp3
Kay Day, leasing agent at the Ala Moana Shopping Center; Sears customers Walter and Fuku
Reality Check with Civil Beat: Halting the Speedy Release of Inmates Due to COVID-19 | Full Article
The release of some lower-level inmates has been expedited during the coronavirus pandemic. Lawmakers Wednesday limited the kinds of inmates who will qualify for that program following cases of reoffenders and the stabilization of COVID-19 infections, Honolulu Civil Beat reporter Kevin Dayton reported.
CivilBeat_040121.mp3
Honolulu Civil Beat reporter Kevin Dayton
Coffee farmers battle coffee leaf rust disease across the islands
Coffee farming, a $56 million industry in Hawai'i, is under threat due to a disease first discovered in 1869 in Sri Lanka, commonly known as coffee leaf rust. State agricultural officials have asked for emergency approval for Priaxor Xemium, a disease-fighting fungicide. Greg Takeshima, acting manager for the state's pesticide branch, shared the latest news with us. Find the webinars here.
CoffeeRust_040121.mp3
Greg Takeshima, deputy director of the Department of Agriculture pesticide branch
Talkback
If you have any comments or feedback, let us know by calling the Talkback Line at (808) 792-8217, or recording a voice memo on your smart phone and sending it to talkback@hawaiipublicradio.org.