Hawaiʻi students will continue in-person learning in 2022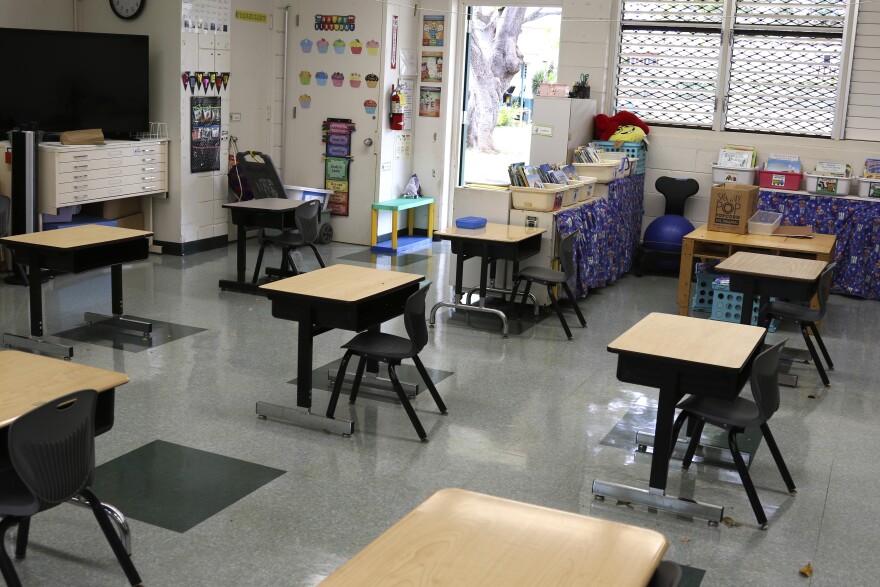 Hawaiʻi public school students will be in classrooms when the new term begins Tuesday, Jan. 4. The decision was announced as COVID cases increase across the state, reaching 3,484 new cases Thursday.
Interim Hawaiʻi School Superintendent Keith Hayashi said that while there are concerns about rising numbers of COVID cases, the benefits of in-person learning on students' social and academic development are equally important.
Hayashi pointed out that all public schools follow several strategies to keep students safe, including vaccinations and booster shots, wellness checks, masking, social distancing, and proper hand-washing.
The state Department of Health has consulted with the DOE on its policies.
Dr. Janet Berreman, the district health officer for Kauaʻi, said the approach taken by the DOE has fostered a relatively safe environment for students.
"The layered approach in DOE has really been very successful in limiting spread there. We do expect to see more transmission with Omicron as we see everywhere.," Berreman said. "But we are reasonably confident that the layered approach that's in place, that's proven to be very effective, will continue to be effective in minimizing that transmission."
The DOE said since Dec. 1, public schools have seen a daily average of 19 cases of COVID amongst its nearly 42,000 staff members and 160,000 students.
Officials said during the winter break, school leaders have been reviewing contingency plans to prepare for possible changes to the in-person learning model, and if necessary, such changes would be communicated directly to staff and families.
Meanwhile, the Hawaiʻi State Teachers Association released a statement criticizing the health and education departments for making no adjustments to their plans in the wake of the increase in COVID cases.
HSTA President Osa Tui Jr. said the union has been asking the DOE for months about contingency plans should in-person learning be disrupted, but said education officials have refused to divulge them.
Tui said those plans should be shared with staff and families immediately so they can prepare to make changes to childcare and work schedules.
HSTA is also concerned about what it calls the lack of planning and availability of rapid testing for students and staff.
Statewide, 79.1% of residents aged 5 and older are fully vaccinated, according to the state. On Oʻahu, that number is 82%.