Exploring the Native Hawaiian Belief in the Sacredness of Mauna Kea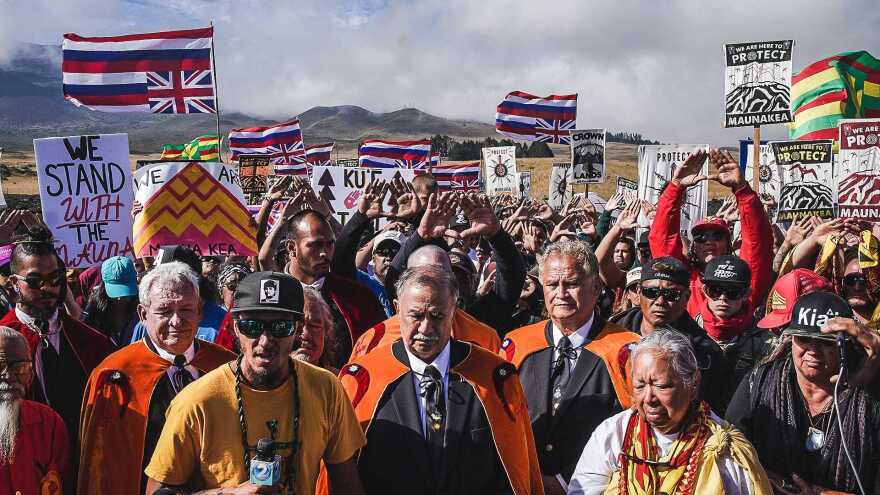 Many native Hawaiians who oppose the construction of the planned Thirty-Meter Telescope on Mauna Kea say the mountain is sacred. But what does sacred mean and what is the foundation for that belief? Could we see similar challenges to activities on Haleakal?, Mauna Loa or K?lauea?
According to some Hawaiians, Mauna Kea is the gateway to the heavens. Ty K?wika Tengan is an anthropology professor and chair of ethnic studies at UH M?noa.
"When we talk about sacred, we're talking about something that is special and set apart because of religious or spiritual reasons," says Tengan, "So in relation to Mauna Kea or Mauna a W?kea, it is seen as kapu because of its place in at least one genealogical chant that recites the birthing of the mauna as the kapu first born child of W?kea."
W?kea is father sky. Together with Papa, mother earth, they created all the islands. Mauna Kea is known as the piko or the umbillical cord connecting the people to the heavens. In Hawaiian religion, gods and deities take on all forms of the natural environment, says UH Hawaiian Studies Professor Kamaoli Kuwada.
"I think people don't understand that all land can be sacred, right?," says Kuwada, "You know they're going to be like, ?Make up your mind, which one is the sacred one?? They don?t understand the reverence with which we are supposed to interact with the land."
Native Hawaiian cultural practitioner and Keaukaha resident Paul Neves has familial ties to Mauna Kea. Neves recalls his mother Agnes Kea explaining his ?ohana's connection to the mountain.
"She said, 'We're Kea people - unblemished.' The mountain without blemish," says Neves, "It's so holy, you're not supposed to go up there and if you're supposed to go there, it's for something really important. You walk very softly, you leave no footprints. That's how she explained it."
Neves recently won a court case against the state's emergency proclamation on the grounds that it prevented him from practicing at traditional gathering sites on the summit. Governor David Ige later rescinded the proclamation.
"We'd do anything to continue our connection with Mauna Kea. We have to do everything. If it's a court case, fine," says Neves, "If it's a break in a blockade, fine. If it's going up to M?n? Road behind them and go pray, fine. Whatever we do, this is our religious right."
A point of contention for Kuwada has been the need for native Hawaiians like Neves to prove the validity of Mauna Kea's sacredness.
"Like we have to have all of these things where any structures have to be 300 years old. They can't have been built new because we're not a living people," says Kuwada, "You know? The things that we do now and decide now can't have bearing on the world now. It all has to be stuff as 'us of the past.'"
For those calling themselves kia?i or protectors of Mauna Kea development of this sacred space is desecration.
"The activities that are happening and have happened since the 1960s actually with astronomy and the development of really industrial astronomy without the meaningful input and guidance of kanaka ??iwi our indigenous Hawaiian community has led to a violation of the sanctity of that summit, of the home of the god," says Tengan.
The same argument for sacredness could be made for Haleakal?, Mauna Loa, and K?lauea, home to the goddess Pele. And this has had Rhonda Loh doing a lot of thinking. She's Acting Superintendent of the Hawai?i Volcanoes National Park, which has operated at K?lauea for more than a century.
"The events on Mauna Kea really made me do some soul searching and this is what I?ve been thinking," says Loh, "You know the park was established to protect the natural and cultural resources. The recent events on Mauna Kea remind us to keep engaged with our island communities and to engage often and early with our kupuna and stakeholders."
Tengan agrees, but believes discussion alone is not enough.
"I think what's happening on Mauna Kea really opens up an important dialogue wherever astronomy or any kind of industrial scientific or other work is happening on the top of our various mauna," says Tengan, "That those powers, those industries that are working there need to really understand the relationship that kanaka ??iwi have to these very special places."
Access to Mauna Kea has been blocked for three weeks now by the protest. There are no signs it will end soon.