Military families staying in Waikiki due to water contamination worry about rising COVID cases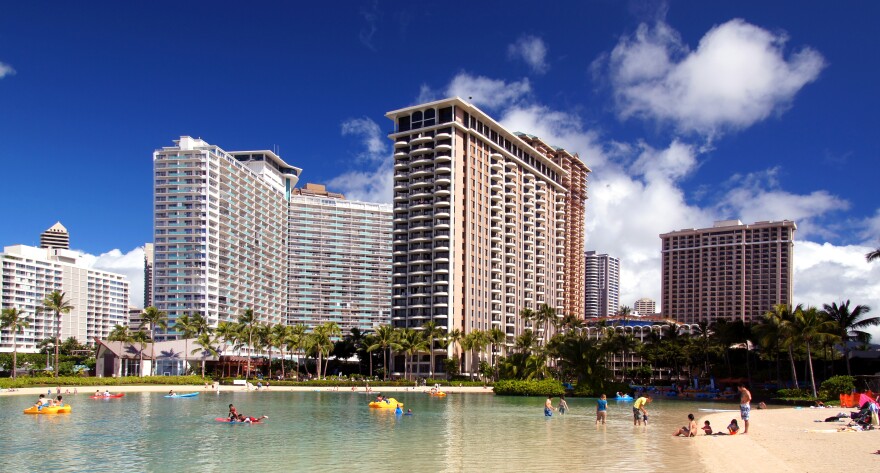 As Hawaiʻi's petroleum-tainted water crisis began to unfold, The Conversation heard from military spouses who were afraid to use their names because of retaliation from their command for speaking to the media.
One mother of three said her family is currently in a hotel, but now she is worried about being in Waikiki with the spike in COVID cases on Oʻahu.
The positivity rate doubled to 6% this week and unless people pull back on their activities, some warn it could get worse for those who have not yet been vaccinated or who can't get vaccinated.
Another mom of a 3-month-old baby is also in Waikiki, staying at The Outrigger. But it's not a postcard picture in paradise by a long shot. She is grateful to have someplace to go for clean water, but she is still uncomfortable with using her name.
"A lot of the tourists, you know they come from states probably that don't really have very strict mask restrictions. And they're down there without a mask on. And I'm over there with my baby. And I'm just, I want them to kind of keep their distance, but I have to ride in the elevator with them," she said.
She is trying to stay positive, but she still has lots of unanswered questions. Her family will have access to the hotel room until just after New Year's. She just got a notice that her neighborhood's water system will begin to get flushed sometime in January.
"I was telling my husband, we should maybe take advantage of being here. We're beachfront. But we haven't gone to the beach at all," she said.
This interview aired on The Conversation on Dec. 21, 2021. The Conversation airs weekdays at 11 a.m. on HPR-1.