The Conversation: Monday, May 29th, 2017
Daniel Martinez, Pearl Harbor Veteran Interment Program; James Horton, Director of National Memorial Cemetery of the Pacific]
Daniel Martinez, Pearl Harbor Veteran Interment Program
BA_DM052917.mp3
Daniel Martinez
How do we remember the fallen? It's the central question for today. Daniel Martinez, the chief historian at the WWII Valor in the Pacific National Monument has some answers
Intro Music: Aloha Shirts by Tomas Fosch Trio
Outro Music: Armistice by Phoenix
James Horton, Director of National Memorial Cemetery of the Pacific
CV_JH052917.mp3
James Horton
James Horton, Director of National Memorial Cemetery of the Pacific, reflects on changing public perception of today's military.
Intro Music: Synth Driver by Anerican Babies
Outro Music: Dream Catcher by Damu The Fudgemunk
BA_ES052917.mp3
Earl Smith
Pearl Harbor veteran Earl Smith shared a story with HPR's Wayne Yoshioka about December 6th, 1941---and a baseball tournament with teams from different battleships. This month, Earl died at age 94. Today, we are also remembering him
Intro Music: Dream Catcher by Damu The Fudgemunk
Captain Phillip Cooper (Retired), Mission of the Defenese POW/MIA Accounting
BA_PC052917.mp3
Phillip Cooper
We talked with recently retired Captain Phillip Cooper. He finished his military career at the Mission of the Defense POW/MIA Accounting Agency looking for remains from American service members.
Intro Music: Hallway by Why We Run
Outro Music: Ever Loved Once by Blitzen Trapper
Jonathan Parshall, author of Shattered Sword: The Untold Story of Battle of Midway
CV_JP052917.mp3
Jonathan Parshall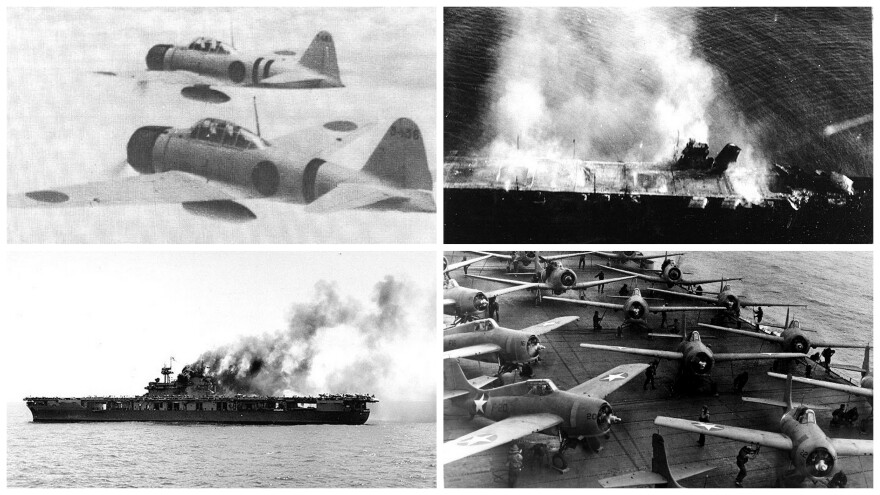 Jonathan Parshall, author of Shattered Sword: The Untold Story of Battle of Midway, looks at a historic battle from the Japanese side
Intro Music: Twenty Miles by Deer Tick
Outro Music: Wise Dread - Instrumental by DJ Drez