Talk Shows:Listen again to your favorite talk programs on HPR-2!Local News:News features and series from HPR's award winning news departmentHPR-2 Program Schedule:find out when all your favorite programs are on the air on HPR-2! Or you can find out more from the HPR-2 detailed program listings.
Pacific News Minute: U.S. Navy Mission Changes Calculus in the South China Sea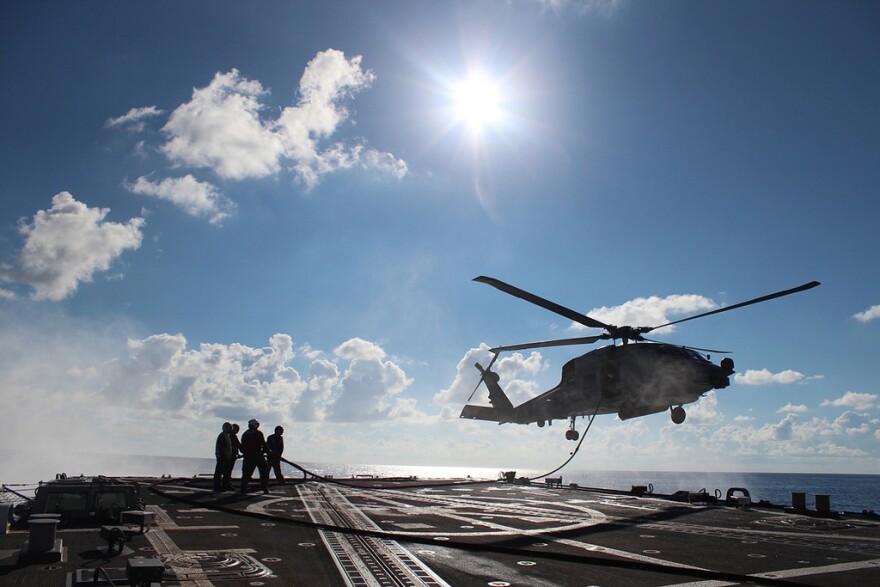 It's been a week since the guided missile destroyer USS Lassen challenged China's claims in the South China Sea. We've learned a bit more about that mission since, and about a new development, that could shift this controversy from international waters, to an international court. More from Neal Conan in the Pacific News Minute.
Last Tuesday, USS Lassen probed not just the waters around the artificial island China's constructed on Subi Reef, but around islands controlled by the Philippines and Vietnam as well. A Chinese naval vessel shadowed the Lassen during the passage and someone - it's not exactly clear who...radioed a message to "stay away from our island."
The Chinese Foreign Ministry summoned US Ambassador Max Baucus to denounce "an extremely irresponsible action." Australia and the Philippines applauded the US mission.
On Thursday, US Chief of Naval Operations John Richardson discussed the incident on a previously scheduled teleconference with his Chinese counterpart, Admiral Wu Shengli. According to US officials, Admiral Wu asked for additional explanations, but made no demands. In all, most analysts agree, a relatively restrained response.
Also on Thursday, an international court in The Hague accepted jurisdiction in a case against China filed by the Philippines. The Permanent Court of Arbitration will now hear the merits of Manila's argument for exclusive rights to oil, gas, and fish in waters within 200 miles of its shores. China boycotted the proceedings and says it will refuse to accept any ruling, even though the UN Convention on the Law of the Sea, which it signed, declares the court's decisions binding.
The US says it intends to continue what the navy calls FONOPs in the South China Sea...Freedom of Navigation Operations...with no way to know how China might respond next time.