Kaiser Permanente mental health employees return to work after a 172-day strike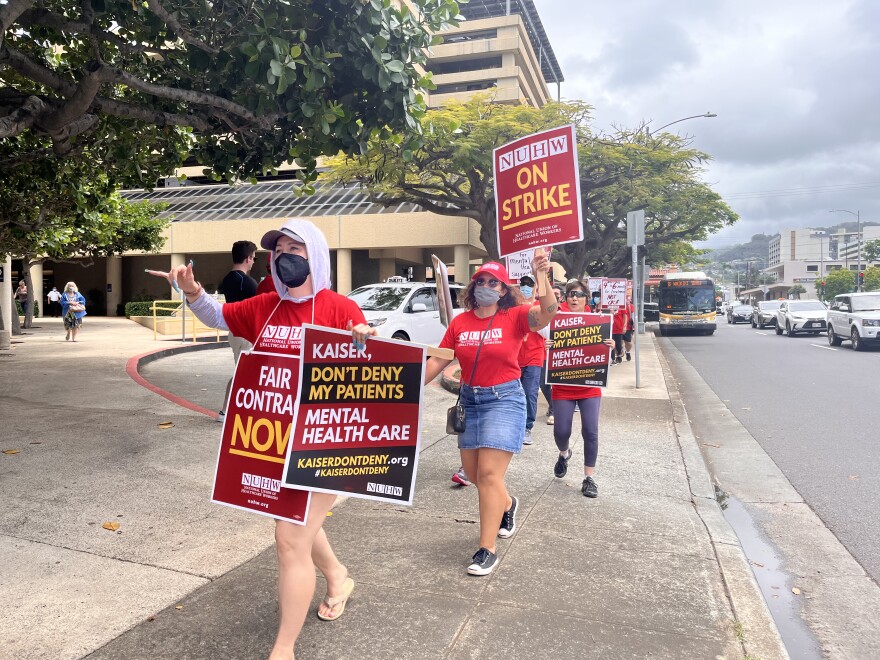 Kaiser Permanente mental health workers are back at work after a 172-day strike this week.
The union representing the workers said the mental health strike was the longest in history, prompted by the rigorous work therapists, psychiatrists and clinicians had to undergo throughout the pandemic.
The National Union of Healthcare Workers said the strike started due to the low retention of mental health workers compared to the overwhelming demand of patients.
Kaiser and NUHW reached a tentative agreement last week when both groups "voted overwhelmingly" to ratify the contract.
The agreed-on contract increases wages by at least 3% in 2023 and 2024, and 2% in 2025 — amounts that would have stayed the same for years with the original agreement.
Additonally, the new agreement allows bilingual therapists to receive an extra $1.50 an hour and preserves the pension benefits of new hires.
The agreement also includes pension benefits for new hires. Kaiser had previously insisted on eliminating pension benefits for new hires even though that would have made it harder to recruit more therapists.
"This contract is a lot better than what Kaiser was offering when we started our strike last August, but it's still not enough to address the understaffing crisis that forces Kaiser members to wait months for mental health therapy," said Andrea Kumura, a social worker from Waipio said in a press release.
Some medical benefits for retirees were removed and many Kaiser therapists are still unsure about the department's future.
Licensed clinical social worker Andrea Kumura said she saw eight to nine therapists leave during the strike.
"Kaiser likes to say that they're overpaying us, but the majority of our therapists have to have second or even third jobs because of the cost of living," Kumura said.
"A lot of people left and with this tentative agreement and the taking away of benefits in retirement, I anticipate that there's actually going to be another wave of people that are going to be retiring," Kumura told PR.
Kaiser stated that three new therapists joined the company during the strike.
"We are also extremely grateful to the many community providers who opened additional appointments during the strike to ensure Kaiser Permanente members received the care they needed," Kaiser said in a statement.
NUHW states that this is the first contract for Kaiser mental health therapists since the union was formed in 2018.