2019: Strong Year for Local Bank Stocks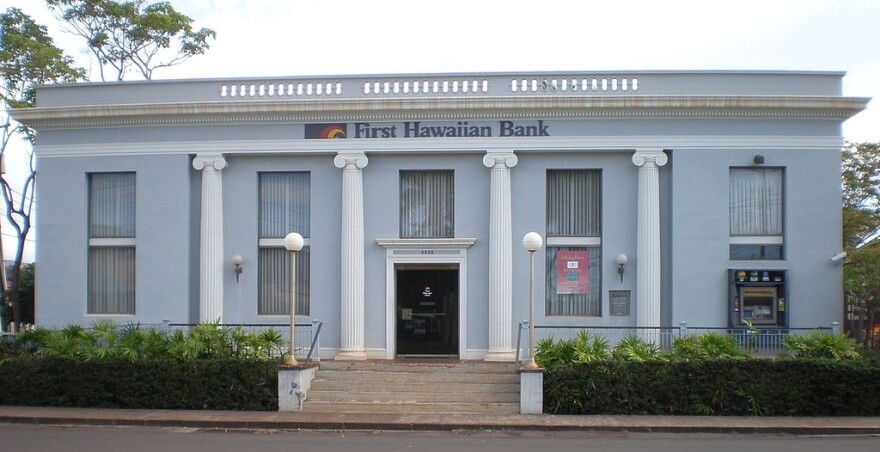 2019 has been a very strong year for the stock market. The Dow Jones Industrial Average is up more than 17%. And the broader S&P 500 is even higher — up more than 26% at Monday's close. We're taking a look at how some local publicly-held companies have done this year.
2019 has been a good year for investors in financial stocks. The S&P bank index is up about 20% so far — quite a contrast to last year, when the index was down nearly 20%.
Local banks have also enjoyed positive years. All are up sharply from their lows of the fourth quarter of 2018, and most have advanced relatively steadily through the year — without the volatility of a year ago.
Going by its annual revenue of 723 million dollars, the largest locally-based bank is First Hawaiian – its share price is up more than 22% this year through Monday.
Next in size is Bank of Hawaii — its annual revenue is 638 million dollars, and its stock is up more than 34% for the year through Monday.
American Savings Bank is part of Hawaiian Electric Industries, and does not trade as a separate stock.
Central Pacific is less than a third of the size of First Hawaiian, and its stock is up 15% this year.
Territorial Bankcorp is the smallest publicly held local bank — its stock is up more than 19% through Monday's trading.
While each bank of course has its individual strengths and weaknesses, the group of local publicly held banks is consistent with the broader industry trend of higher earnings and share prices — with a fourth quarter that has produced some of the best returns of the year.