Behind The Scenes of Hawai?i's 2018 Homeless Count
Hundreds of volunteers have been canvasing streets statewide this week surveying Hawai'i's homeless population. The annual Point-In-Time Count is part of a nationwide effort to document the number of homeless people. HPR Reporter Ku'uwehi Hiraishi joined the count and has this story.
It's five o'clock on a Tuesday afternoon in Chinatown. Dozens of volunteers are on a mission to survey as many homeless people as they can. I team up with nurse practitioner Christina Wang and Nicole Ward, an outreach worker with the CHOW Project, a community health outreach program that works with the homeless population.
"Hi! How you guys doing?," says Ward. "We're doing the point in time. Have you guys heard of it? So we're doing a survey seeing where people slept last night. Would you be interested in doing the survey"
"Get some free goodies?" says Wang.
"No, sorry," says an unidentified homeless man.
"That's ok," says Wang.
"You can still have some free goodies," says Ward.
"Yeah, you want a bag?" says Wang.
The man takes the goodie bag, but he won't be counted. These goodie bags are a hit and the biggest incentive to get people to do the survey.
"Some feminine hygiene products as well, that's always asked for, some toothbrushes and toothpaste. Food's always a draw. People are hungry," says Wang
"We give McDonald's certificates," says Ward, "They LOVE those."
After another dozen or so rejections, a 74-year-old homeless man who goes by Kipi Keli'ikip agrees to the survey.
"Well I'm a U.S. vet who came back from Vietnam," says Keli'ikipi,"Most people don't really care about us. But I still can take care of myself."
Last night he slept in 'A'ala Park. He says he's been on the streets for two years.
"I get my pension, finally," says Keli'ilipi, "But now I'm waiting for my housing."
Ward asks him basic questions like name, age, and ethnicity. This year, they've extended the survey to include questions on gender identity and intimate partners.
"The partner violence is always tricky to ask," says Wang, "They also ask if you're living with HIV or AIDS, which is a very personal question. So I think you have to establish a relationship."
"You have to have the street cred," says Ward.
But Ward and many other outreach workers I spoke with say recent sweeps of homeless encampments have really hurt their street cred. David Abitbol is the policy and contracts manager for the CHOW Project.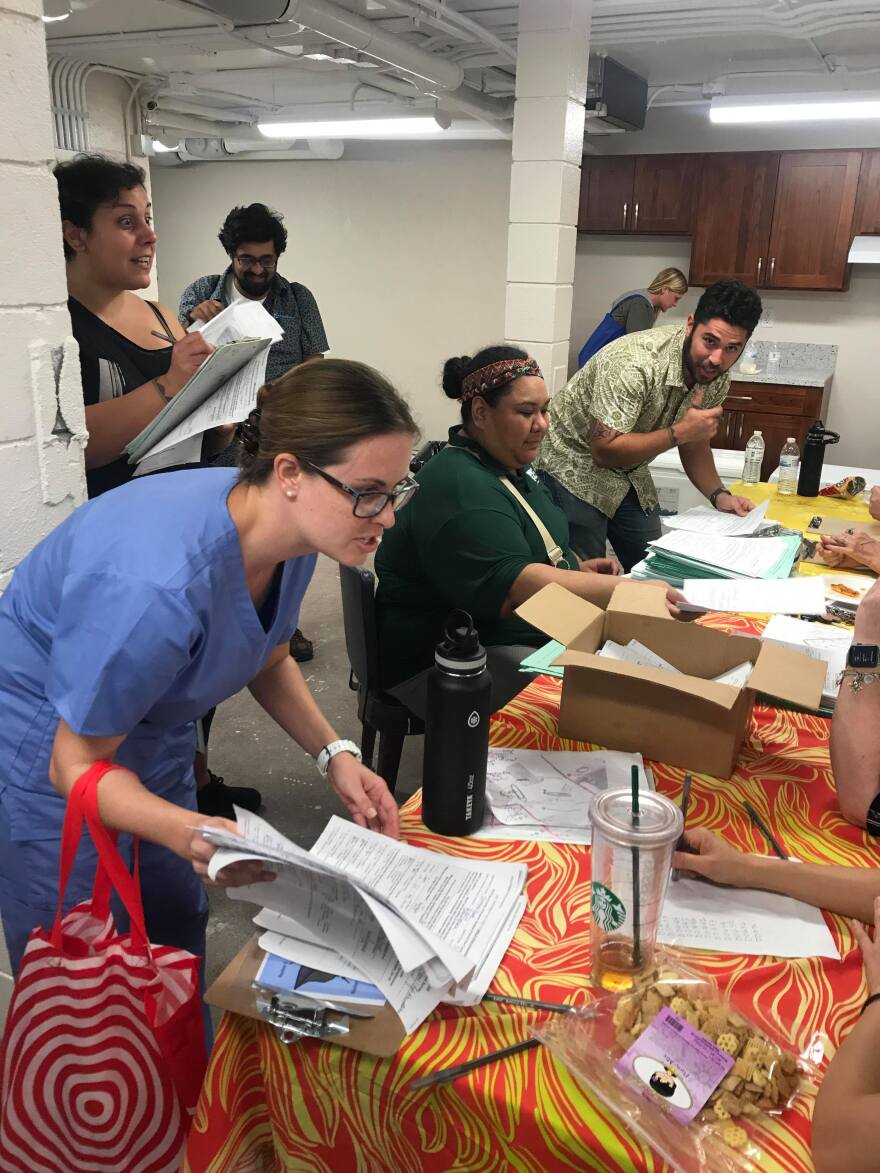 "So it created a lot of mistrust and I think it's kind of been making our jobs or our outreach workers jobs a lot more difficult because a lot less people are even willing to engage," says Abitbol.
And it could have a bearing on the Point-In-Time Count as well. Last year, the downtown Honolulu region accounted for more than a quarter of O'ahu homeless population. Leilani Maxera, program manager for the CHOW Project says timing is everything.
"So even if that person had been homeless all this time and that one night, they're in jail, they slept on someone's couch, they went to the hospital; they can't do the survey," says Maxera, "We can't count them because they didn't sleep outside that night. And what it means is no matter what happens tonight, the number is higher. The number of homeless is higher."