Housing, Climate Change, Homelessness Among Priorities Outlined By Mayor Rick Blangiardi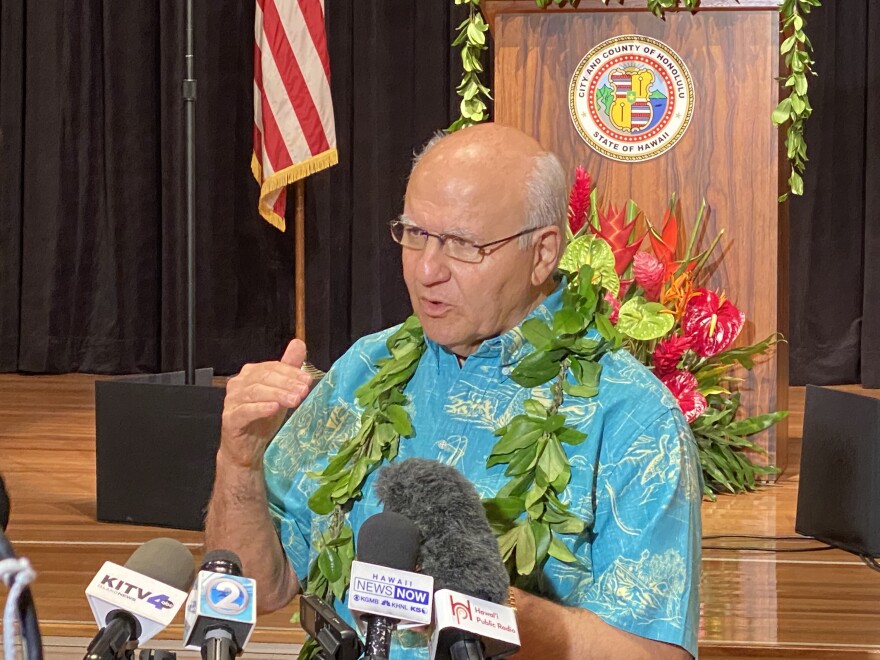 Affordable housing, infrastructure, and homelessness are some of the priorities Rick Blangiardi wants to tackle during his time as Honolulu mayor. He gave his first State of the City address Monday outlining his vision for O?ahu this year and beyond.
Blangiardi opened his speech by reviewing the impact the coronavirus pandemic had on O?ahu residents and businesses, while acknowledging the progress made in combatting the disease. He says the state is expected to reach a milestone later this week by vaccinating 500,00 residents.
But there are many challenges facing the new administration, the first was addressing the City's budget for the next fiscal year.
"We presented our budget to the City Council on March 2 -- that was $73 million less than what was proposed last year," Blangiardi said.
Blangiardi says he is committed to not furloughing any city workers or suspending any government services. Last year, the City was facing a projected budget shortfall of $400 million. That projected shortfall is now down to around $31 million, according to budget and fiscal services director Andy Kawano.
Earlier this month, the Blangiardi administration presented a budget that was relatively static operating and capital improvements budget for the next year. And Blangiardi has repeatedly expressed he has no interest in raising property taxes.
"Our team has not been focused on what we don't have, we're focused on getting things done with what we do have," Blangiardi said during his State of the City.
Instead, Blangiardi is focused on solving challenges that have worsened over the years -- such as homelessness.
"We need to own the challenge. Our plan is to expand the City Office of Housing into the Office of Housing and Homelessness," he said. "That means more resources and more solutions to tackle this crisis."
Office of Housing director Anton Krucky told members of the Council's budget committee last week that service providers will have more responsibility and say in what efforts to pursue. The city will support the execution of those efforts.
Another priority for Blangiardi is re-examining the city's efforts in creating more affordable housing.
"We need new ideas and new vision, and we are committed that cause," he said. "The same old tired solutions to our affordable housing crisis is clearly not the answer. It hasn't worked for more than 30 years. Historically, government has not been good about building affordable housing."
One of Blangiardi's ideas to promote the development of affordable housing is creating an incentive for private landowners. Bill 1 was introduced to the Honolulu City Council earlier this year, give landowners the ability to build units "at a reasonable rate."
Bill 1 is up for second reading on Wednesday during the Council's monthly meeting.
Another commitment Blangiardi is making is combating climate change, and making Oahu more resilient to its effects. He says there is a twofold approach to addressing it -- one is eliminating carbon pollution through decarbonization, and the second is preparing communities.
He says last week's flooding is proof more needs to be done within communities.
"We are shifting from talking about policy to doing something about it," Blangiardi said. "For example, we are investing in drainage and flood management improvements at various locations island-wide to protect communities and city facilities."
This would include channel wall reconstruction, dredging streams and lagoons, reconstructing debris basins and assessing drainage outfalls where water flows into the ocean.
Blangiardi says he isworking with state and federal partners to financially back these projects. He is also working with them to get aid for residents and communities that were impacted by last week's flooding.
Other commitments made by Blangiardi during his address include: moving the rail project forward and closing its $3 billion budget shortfall, improving government services (especially in historically underserved communities), and the revitalization of Chinatown.