Interisland Travel Resumes With Extra Checkpoints, Paperwork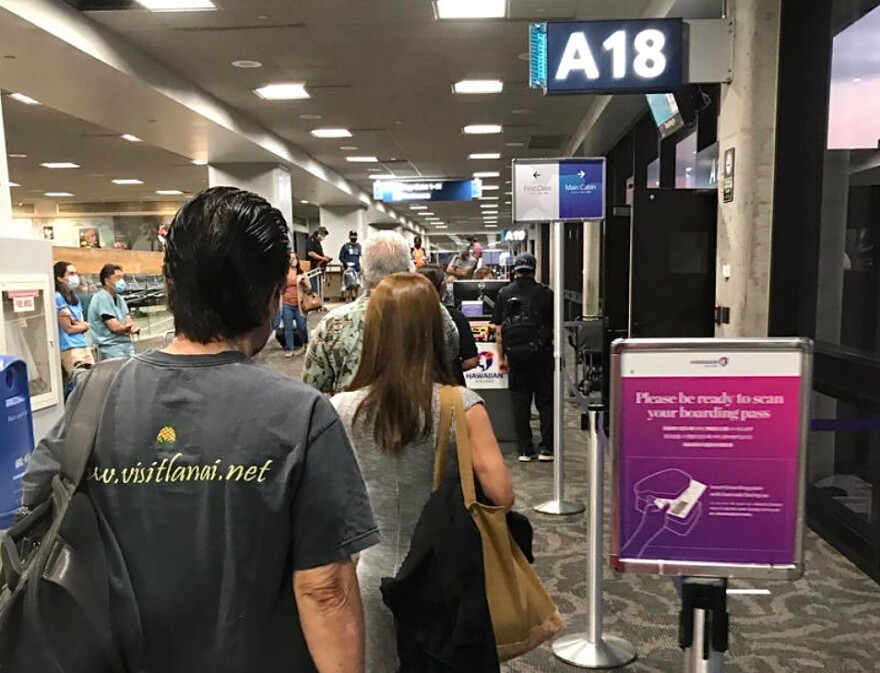 After two and a half months, the state of Hawai?i has lifted its mandatory interisland quarantine requirement. That means residents are once again free to travel to other islands.
The lines weren?t as long as expected, says Wai?anae resident Yvonne Kalima. Kalima, her husband and her three daughters were on the first flight to Kona and they just booked their tickets last night. That's when they realized they wouldn?t be subject to quarantine measures.
"We gotta go see family in Kona and we gotta work when we get back," says Kalima. "So we cannot be in quarantine."
The 14-day mandatory quarantine requirement was lifted Tuesday. That was all it took for Hilo resident Lehua Kalawai?a and her family to hop on a flight to Honolulu.
"Yeah, we?re gonna go back and visit family. My husband?s t?t? hasn?t been doing too good so we?ve been waiting for this day to come," says Kalawai?a.
But Kaua?i resident Rhonda Young says interisland travel isn?t what it used to be pre-COVID-19.
"Yeah, because we used to just go back and forth as we please, you know," says Young.
Instead of going straight through the TSA checkpoint, travelers need to first have their temperature taken by the Hawaii National Guard and then they have health officials review mandatory paperwork explaining where they are going and how authorities can get in touch with them.
"Knowing who?s going where and what, to me, it feels like they are trying to do their best to protect the people," says Kalawai?a. "I mean I had to put down my phone number and they called me right there to make sure that was the correct phone number I put down."
Kalawai?a says she?s doing everything to keep her family safe while traveling in a pandemic. But she admits she?s scared. Kalima on the other hand says she feels safe with the public health measures in place for interisland travel.
"As long as everyone takes the necessary precautions. Mainland, maybe not too much right now," says Kalima. "But interisland, I think everybody is being respectful and wearing their mask and stuff."
But Kalima adds, it is still the first day.