Old Summer Palace in Nu?uanu Home to Historic Celebration
July 31 is a national holiday in the Hawaiian Kingdom called Restoration Day. The first observance of this holiday was in 1843 at the Nu?uanu summer palace of Hawai?i's longest-reigning monarch.HPR Reporter Ku?uwehi Hiraishi has this story.
A muddy path off the Old Pali Highway in an area of Nu?uanu known as Luakaha takes you through a bamboo forest, alongside ancient irrigation ditches to what remains of Kaniakap?p? – the summer retreat of Kauikeaouli Kamehameha III and Queen Kalama.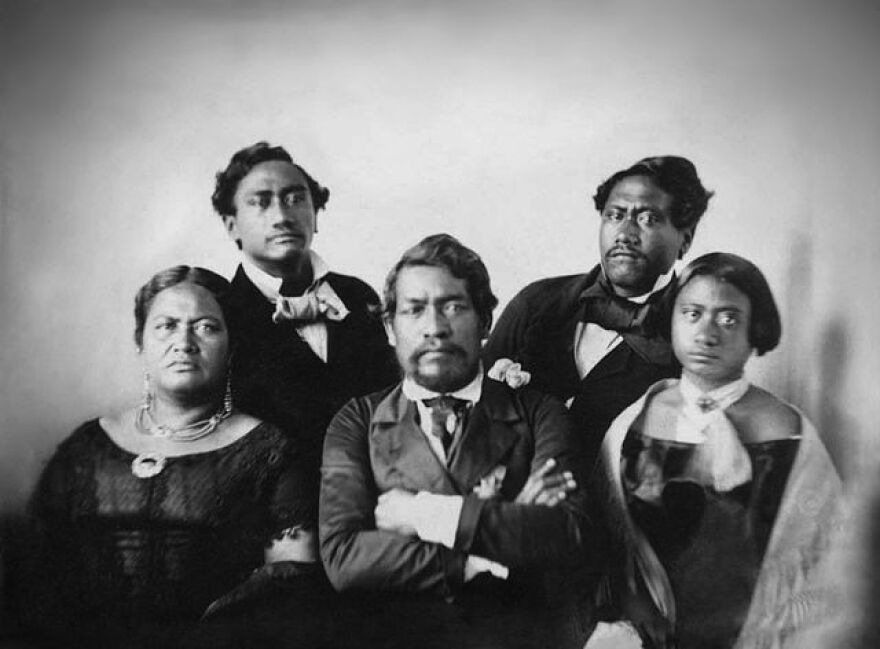 "Its said that Kauikeaouli came up here to get away from the rigors of running the government," says Baron Ching, "So it was a good place for him. He would gamble, you know, drink, and get away from the pressures of running the country."
Ching is a member of a group of volunteers who care for the ruins and the surrounding area.
Kaniakap?p? was built in 1835, at about the same time and in similar fashion to Kawaiha?o Church in downtown Honolulu.
"Built sorta western style with mortar, plaster, pili grass roof. Basically it was one big room. And that?s the cooking house," says Ching, "You had a wooden lanai that went around to the edge of these stones, a pili grass roof that extended to the end of these stones, and of course a paved stone walkway was a lot smoother in those days."
The dry stack platform of the cooking house can be seen in the foreground covered in ferns and moss. In the background, the west-facing wall of Kaniakapupu. All four walls included two windows on each side of a door.
Credit Ku'uwehi Hiraishi
Kauikeauouli reigned for 29 years beginning in 1825. Ching says, it was here that he wrote parts of the first Constitution of the Kingdom of Hawai?i in 1840.
Kaniakap?p? was also the site of one of the biggest party in the history of Hawai?i – the 1843 celebration of Restoration Day or L? Ho?iho?i Ea.
"You know the British occupied Hawai?i from about February 24, 1843, until Rear Admiral Richard Thomas arrives in Honolulu Harbor on July 25," says Ching, "Thomas decides that yeah it was all hyped up and there was no reason to seize Hawai?i."
That's right. For five months in 1843, the Hawaiian Kingdom was occupied by rogue agents of the British Crown.
"And so what happens is that July 31st becomes the official day to restore Hawai?i, the independence of Hawai?i," says Ching, "They said the entire city of Honolulu came. Ten thousand people came up that road you just came up and celebrated L? Ho?iho?i Ea.
According to Ching,Kaniakap?p? was abandoned shortly after Kauikeaouli's death in 1853. Thesite was added to the National Register of Historic Placesin the 1960s, and stewardship of the area continues through today.
L? Ho?iho?I Ea festivities also continue every year at Thomas Square in Honolulu, but Ching hopes to one day return the celebration to Kaniakap?p?, where it all began.