The Latest: 1 Death, 78 New COVID-19 Cases; Honolulu Needs Fewer Cases To Reopen Further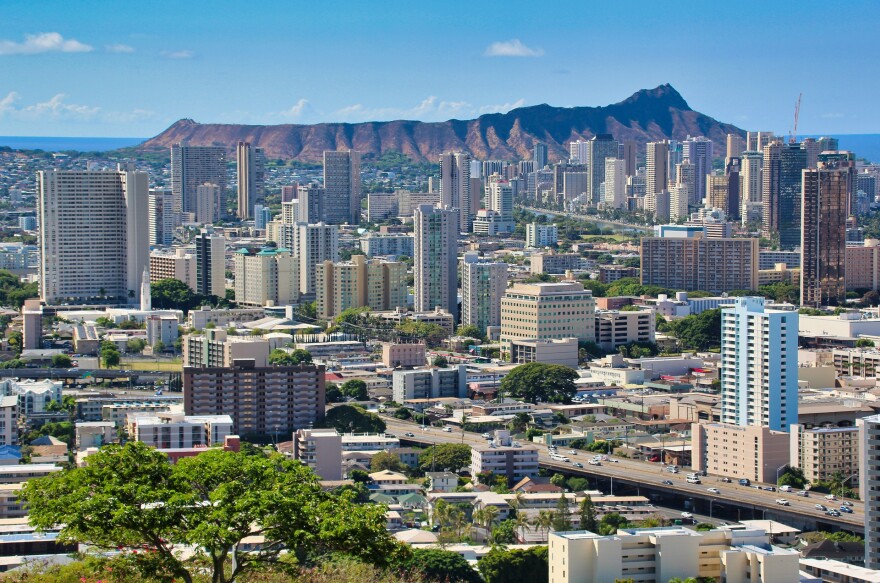 Updated: 11/10/2020, 3:30 p.m. The new COVID-19 case count moderated again today with 78 infections reported, but it's still not enough to secure more easing of restrictions. There was one additional death, bringing the state toll to 222.
The state Department of Health reported statewide cases reached 16,088 since the pandemic began.
Oahu had 62 new cases, Hawaii County 4, Maui 5, and Kauai, Lanai, and Molokai 0.
Today's numbers signal the 100-plus case counts that the state saw Wednesday through Sunday may be declining, though it's unclear if they will prevent a retreat in reopening efforts, particularly on Oahu.
On Wednesday, 156 new cases were reported, followed by 100 on Thursday, 122 on Friday, 128 on Saturday, 128 on Sunday and 64 on Monday.
Oahu has now had 13,924 cases, Hawaii County 1,413 cases, Maui island 430 cases, Lanai 106 cases, Kauai 71 cases and Molokai 17 cases. One hundred twenty-seven cases have been diagnosed out of state. Two cases were removed from the Kauai count and reclassified to out-of-state numbers based on updated information.
Oahu numbers too high for immediate easing of restrictions
Honolulu is not likely to ease more COVID-19 restrictions until the week of Thanksgiving, according to Mayor Kirk Caldwell. Oahu saw two more days of new cases in the triple digits over the weekend, stalling the island's reopening.
Honolulu is in Tier 2 of its reopening, which means a five-person limit on gatherings and continuing closure of some businesses.
Caldwell said yesterday the city will not meet the requirements to further ease restrictions as soon as he would like.
"I was hoping we'd hit it next Wednesday. We're not going to hit it given the number of cases. It's almost impossible to do because you need a weekly average of less than 50 for two weeks," he said.
"And the first of the two weeks is just going to end on Wednesday – we won't get there because of the numbers. So the next week kicks in, we could get there by Thanksgiving and move into Tier 3, but we won't hit it next week."
Caldwell says the island could revert back to Tier 1, the most restrictive stage, if the weekly average for new cases is above a hundred.
Cases dropped below 100 yesterday and today. The state Department of Health reported 62 new coronavirus cases today on Oahu.
--HPR's Casey Harlow

Hundreds of Hawaii inmates in Arizona part of surge in positive cases
There are now more than 400 Hawai?i inmates who have tested positive for COVID-19 at a privately-run prison in Arizona.
Five Hawai?i inmates have been hospitalized and more than 360 are currently in medical isolation after testing positive for COVID-19 at the Saguaro Correctional Center in Eloy, Arizona.
More than 1,100 Hawai?i inmates are housed at the prison under a contract between the State of Hawai?i and the Tennessee-based private prison operator CoreCivic.
Mass testing of Hawai?i inmates wrapped up last week. More than half of the incarcerated population tested negative. As a precautionary measure, the inmates were placed in quarantine.
Fred Hyun, acting director of the state Department of Public Safety, said Saguaro can provide adequate space for isolation and quarantine because it doesn't have an overcrowding issue.
The first confirmed case of COVID-19 at the facility came on Oct. 9. Since then, the outbreak has grown to infect more than 400 Hawai?i inmates, 51 of whom have since recovered.
--HPR's Ku?uwehi Hiraishi
COVID-19 aid among top priorities for Congress-bound Kahele
Hawaii Congressman-elect Kai Kahele counts another round of COVID-19 relief legislation among his top priorities as he heads for Washington D.C. to set up his new office.
But he also says he's looking forward to a Biden administration, one that provides a consistent voice in dealing with the pandemic and clear guidance from the Centers for Disease Control and Prevention.
"You know, it's obvious that that hasn't happened. And we have a surge in coronavirus cases happening all across our country," he said. "Even here in Hawaii, our numbers are back to over 100 a day ... so until we have a tested and fully approved, FDA-approved vaccine that can be distributed, you know, it's going to be a lot of hard times ahead for us.
"And things like a national mask mandate, more protective measures that we can do for our communities and that equipment that we can provide is going to be absolutely essential."
The new Congress doesn't convene until early in January. But the old one can still approve more help for businesses, local governments and individuals before the year is out.
Congressman Ed Case said it's possible that the House and Senate can pull off an aid package, but it would require compromise.
House Speaker Nancy Pelosi will likely represent the majority Democrats in negotiating with Republicans on any relief legislation. Both Case and Kahele say they intend to support Pelosi for speaker.
Kahele says he hopes to win seats on the transportation and agriculture committees where he can represent Hawaii's interests.
--HPR's Sandee Oshiro
Case: Democrats need to remember Trump drew 1 in 3 voters
Congressman Ed Case says he's excited for the prospects of a Biden administration taking office in Washington in January.
Case says the former vice president's victory shows most Americans favor his unifying and healing approach to the country's challenges.
But he also says that the new administration will face some difficult issues, and not just related to the pandemic.
"Let's not forget that Donald Trump looks to have gotten 70 million votes. And so he got the second-highest popular vote total in the history of our country. And so there are 70 million Americans out there who made a different choice—and here in Hawaii, one out of three voters chose Trump," he said.
"And so clearly there is a concern and a perspective that [some] feel like losers today and they have to be included in the dialogue going forward."
Case says the top priority for Congress right now is another stimulus package. He said over the coming four years, it will be important to reach bipartisan agreement on issues like the cost of living, the economy and health care.
--HPR's Bill Dorman