Wai?anae's Next Generation of Voyagers Step Up
The voyaging canoe H?k?le?a is making its final stop for the year in Wai?anae. The Worldwide Voyage continues as the canoe visits community ports around Hawai?i to celebrate its homecoming. HPR's Ku?uwehi Hiraishi reports.
It was a truly hospitable Wai?anae welcome for the H?k?le?a at P?ka?i Bay.
Here's Wai?anae native and crew member Sam Kapoi.
"It's awesome to see community get like this, get together like this because you hardly see this nowadays," says Kapoi.
H?k?le?a's three-year worldwide trip brought a renewed sense of accomplishment to the voyaging community. It also created an opportunity for master navigators like Nainoa Thompson to pass the reins of leadership onto the next generation.
"If we failed at getting young people opportunity and access to the voyaging canoes, not just to sail it, but to lead it. If we fail at that then we failed at everything," says Thompson.
For Wai?anae, that responsibility fell on the shoulders of 33-year-old Kaina Nakanealoha. He captained the H?k?le?a as it pulled into P?ka?i – something he jokingly admits he never imagined doing before before joining the voyaging community.
"I only seen H?k?le?a on TV or on magazines. I thought you had to be related to Kamehameha or Nainoa Thompson or something to get on board these vessels," says Nakanealoha.
The Wai?anae native joined the voyaging ?ohana in 2001, and recently trained under master navigators like Thompson on H?k?le?a?s trip around the world. And when it was time to bring H?k?le?a back to Wai?anae, Thompson knew Nakanealoha was ready to lead.
"It's not like we gave him the opportunity to captain. He earned it, he deserved it," says Thompson, "I know him he didn't want me to cut in because he wanted to prove to me that he could do it. So I didn't say a word. You saw the arrival. It was perfect."
Dozens of community members from up and down the Leeward Coast prepared food, made lei, memorized chants and practiced hula – all to ensure a proper welcoming of the voyaging canoe and its crew members. Here's Kapoi.
"I mean we're talking about guys who no even do this kind stuff every day," says Kapoi, "For everybody to get together on this common goal is amazing for see. It really gives me hope that our people still care about our culture."
The scene was reminiscent of H?k?le?a's maiden voyage from Hawai'i to Tahiti more than 40 years ago, says Vicky Holt-Takamine.
"When H?k?le?a was being planned and was being built, nobody thought that they would ever make it to Tahiti," says Holt-Takamine, "All of us watched them land in Tahiti with the thousands people. I still get choked up, ok? That welcomed them to the shores, and what a wonderful welcoming for them."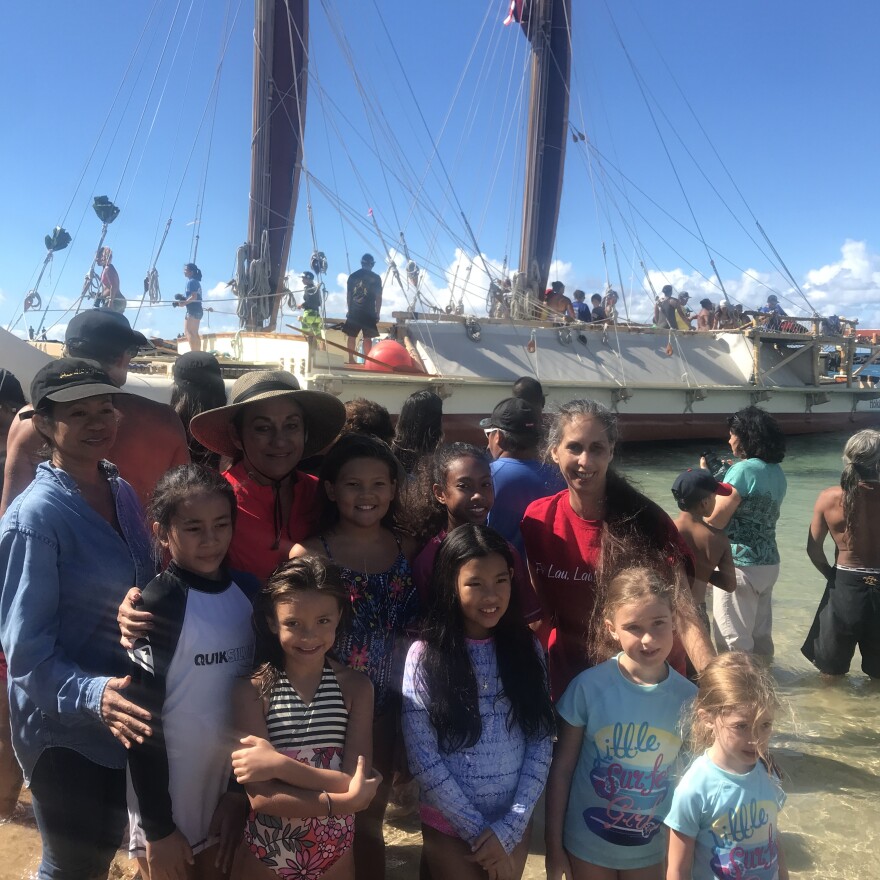 The M?lama Honua Worldwide Voyage has given up and coming voyagers like Nakanelua a strengthened sense of purpose. He's become a role model for future generations in his community.
"They don't need to be voyagers or whatnot, but you know, create your own stars, follow your own constellations, live your dreams," says Nakanealoha, "Dreams are meant to be lived. Today, I did. I lived the dream. This was one of my dreams…to bring her home."
H?k?le?a will remain in Wai?anae for the next two weeks with a host of activities planned for the community.