Talk Shows:Listen again to your favorite talk programs on HPR-2!Local News:News features and series from HPR's award winning news departmentHPR-2 Program Schedule:find out when all your favorite programs are on the air on HPR-2! Or you can find out more from the HPR-2 detailed program listings.
Walking Tour Uses Voices of Kakaako to Rediscover Past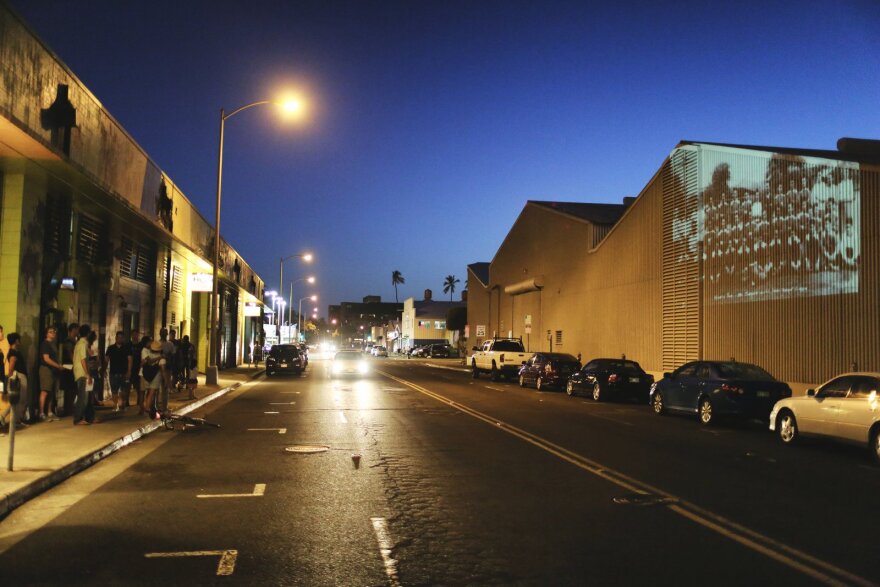 Kaka'ako is a neighborhood in transition, but not for the first time. A different kind of walking tour highlights the sights and sounds of an older Kaka'ako. HPR's Molly Solomon hit the pavement and has this report.
Adele Balderston pulls up on her bicycle to meet me at the corner of Queen and South Street in Kaka'ako. She's the creator of 88 Block Walks, an organization that leads monthly walking tours through the area. "It's an ongoing project to change the way people interact with this area," said Balderston as she whips out a map of the industrial neighborhood. "And it's a really interesting time to do that because it's changing so quickly."
She points to what's now a high rise condo. Back in the 1930s, it was a tenement building. "This is Magoon Block. There were a bunch of Japanese-owned business on the ground floor: an ice cream parlor, a couple of shops and upstairs there were apartments."
Balderston says the people who lived here were mostly young boys, many of them Hawaiian divers who hung out at the boat harbor near the waterfront. "Some of them were orphans and some of them just didn't want to go home," she said. "They were living in the tenement, like 14 boys in a room paying 5 dollars a month in rent. And they were paying their rent by diving for coins."
Balderston learned this by spending the past year poring over stories like these, most of them audio recordings of the former residents themselves. When she leads these tours through Kaka'ako, she tries to incorporate their voices, usually with the help of a mobile sound system and a projector on wheels.
"It's like a badge of honor to come from Kaka'ako," said Warren Nishimoto, Director of the University of Hawai'i at M?noa's Center for Oral History Director of the Center for Oral History. "People came from this rough and tumble, multi-ethnic, working class upbringing."
From 1977-1978, the center recorded interviews with 26 longtime residents. Nishimoto says Native Hawaiians, Chinese, Japanese, Filipinos all called Kaka'ako home. "This sense of community that they had, everybody being in the same boat," he said. "Everybody knew each other; everybody knew what their parents did." That sense of community shifted a bit in the 1950s. A rezoning of the neighborhood displaced most of the community. It took on a new identity as warehouses and a tuna packing factory moved in, making the transition to an industrial zone.
Back on the streets, Adele Balderston continues the tour. "This is the best part," she said, leading me down Queen Street towards Ward Avenue. You quickly notice buildings of a different time: Quonset huts, old auto shops, even the occasional plantation home. "This is where most of the original buildings are. Queen St, Kamani, Waimanu—all those streets have no sidewalks. They're difficult to navigate because it's the original grid," said Balderston. "These were dirt a hundred years ago."
With Kaka'ako about to go through another big change, Balderston wants to help preserve some of its history, even by way of her tour groups. "Just by sharing it with the 30 people that came, now they have that knowledge and they will share it," said Balderston.
"It lives on and remains part of the identity of this place, despite everything that's happening in Kaka'ako."