Asia Minute: Southeast Asia Battles Climbing Coronavirus Cases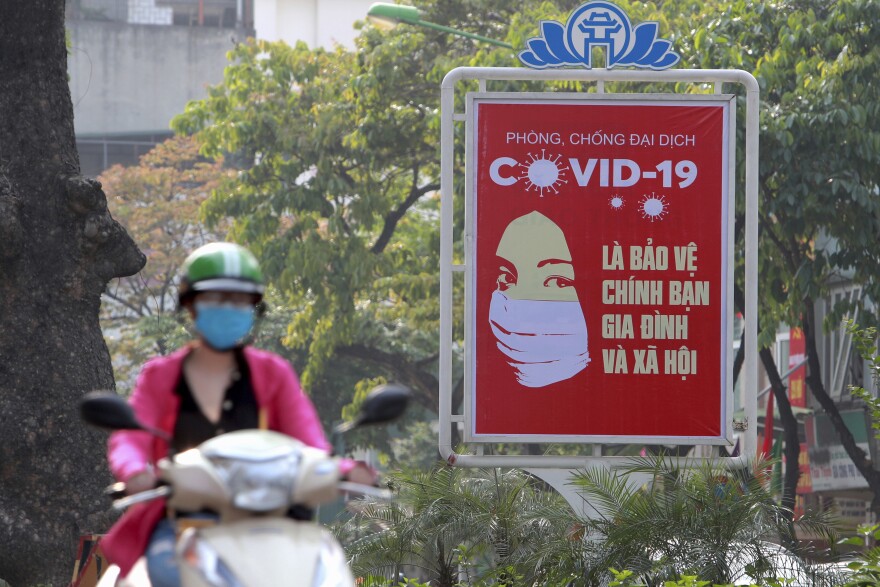 States are having varying responses to the latest guidance from the Centers for Disease Control about face masks and social distancing. But in parts of Southeast Asia, governments are going in a different direction: tightening some restrictions amid rising case numbers of the coronavirus.
Restrictions have been tightened again in Singapore.
As of yesterday, people are only allowed out in groups of two—dine-in restaurants are closed, wedding receptions are banned—and other new rules are in place for at least the next four weeks.
This follows an uptick in local COVID-19 cases—with at least 11 active clusters.
Vaccinations are moving ahead in Singapore, with about a third of the population having at least one shot and more than 20% fully vaccinated.
The pace is much slower elsewhere in Southeast Asia.
In Vietnam, government figures show less than 1% of the population is vaccinated, while in Thailand it's about 2%.
Vietnam was an early success story of the pandemic—but since the end of April, government officials have counted more than 600 community infections—and the South China Morning Post reports that roughly 70,000 people are now in quarantine.
Thailand also had relatively few coronavirus cases in 2020—less than 7,000.
In the past six weeks, health officials have reported nearly 60,000 new infections.
One potential casualty of the regional rise in cases: an air travel "bubble" that has been in the works between Singapore and Hong Kong.
Its planned start date of a week from Wednesday is looking increasingly unlikely.