The Latest: 123 New Cases; Schools Set To Reopen Aug. 17; Ige: State Needs More Contact Tracers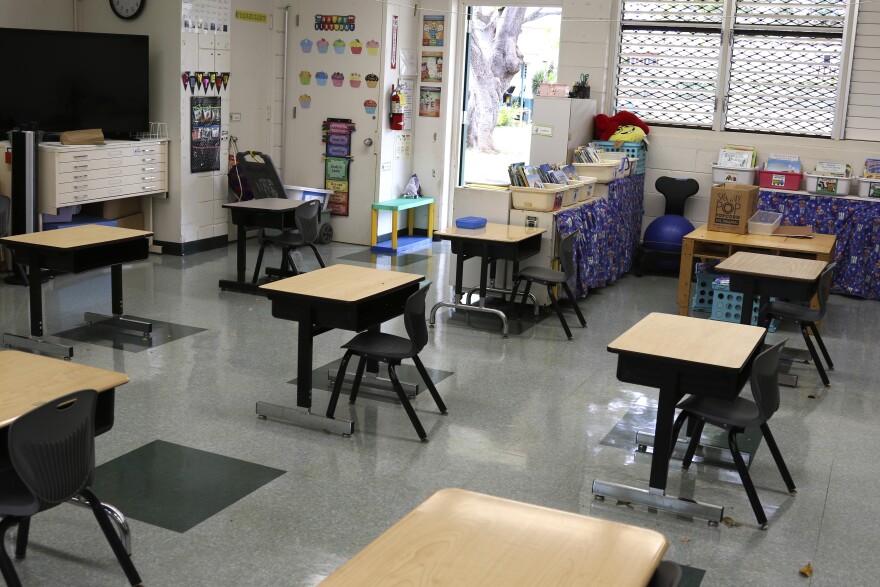 Updated: 7/31/2020, 12:02 p.m.
State health officials reported another 123 new cases of COVID-19 -- the third day in a row of 100-plus infections. All are on Oahu except four in Maui County. Yesterday, Hawaii set a record with 124 cases. That overtook Wednesday's record of 109 new cases.
The state's total number of COVID-19 cases now exceeds 2,000 and stands at 2,111 cases. Out of that total, 1,755 cases are on Oahu, 171 in Maui County, 115 in Hawaii County, and 47 in Kauai County. One case was deducted from Oahu's count based on updated information.
There have been 23 residents diagnosed outside of the state, 179 people hospitalized and 26 deaths.
Public schools to reopen on Aug. 17 after training
Hawaii's public schools are now scheduled to start on August 17th.
This comes after unions representing teachers, principals, vice principals, custodians and cafeteria workers pushed to postpone the original start date of August 4th.
The state Board of Education approved the delay last night on a 7-1 vote. Board member Bruce Voss was the only member to vote against the delay.
School Superintendent Christina Kishimoto said with the change, there will be nine days of teacher training -- seven mandated training for distance learning for those who didn't complete the training over the summer on their own. There will also be training for health and safety issues.
The Department of Education will negotiate with the teachers union to convert three other class preparation days into instructional days.
Kishimoto says that way students would only lose six days of class time instead of nine within the 180-day schedule.
Kishimoto says she has developed a master list of training that all school employees will be required to complete. That is expected to be released today.
--HPR's Ashley Mizuo
Governor says state lacks contact tracers for recent surge
Gov. David Ige says the state lacks the contact tracers it needs to handle the 100-plus surge in new COVID-19 cases in the last two days.
So he's looking at bringing on trained Hawaii National Guard healthcare workers and stepping up hiring to deal with the case load.
This follows the state Department of Health's repeated assertion that it had enough contact tracers to deal with the recent spike in cases.
"We don't have the staff that we need right now to respond to the 109 cases Monday and then the 120-plus cases today. And so, you know, we are looking at whether we can immediately reassign other state workers but also look at deploying National Guard healthcare workers," he said.
Among the Guards members are physicians and other health care professionals who are helping in the pandemic with testing, swabbing and other medical needs, the governor said.
"So we believe that they are versatile and can be trained very quickly and can be used to [contact] search and meet the immediate demand."
So far, about 60 Guard members have been trained in contact tracing. He said as others are trained, the Guard can be redeployed for other needs.
The governor says the state will continue to bring on contact tracers who have been trained. Twenty have initially been hired out of about 400 who have undergone training with the University of Hawaii.
The governor said the state Department of Health is now trying to bring on about 20 contact tracers a week so the state can do the work needed to stem the rapid spread of the virus.
--HPR's Sandee Oshiro
Ige: Data so far argues against restoring interisland travel quarantine
Gov. David Ige is still studying whether to restore the interisland travel quarantine as sought by Maui Mayor Michael Victorino. The mayor's request follows a surge in coronavirus cases – mainly on Oahu.
But Ige said yesterday that – thus far – the data suggests traveling interisland isn't spreading the virus in a major way.
"We see about 13,000 interisland trips that are occurring every week and the number of COVID cases that are tied explicitly to interisland travel is very few," he said. "We are working to get the data so that we can make an informed decision, but when on a quick look at the data that we have, it seems like interisland travel, especially Oahu residents traveling to Maui or Maui County, for example, have not resulted in huge number of cases."
The governor says he'll be meeting with Mayor Victorino today and hopes to have better data to share when they discuss reinstating the quarantine.
--HPR's Sandee Oshiro
Council on Revenues keeps projection of 7% decline in state collections
The state government is likely to experience a protracted reduction in the tax revenue used for essential services.
The Hawaii Council on Revenues, which issues quarterly projections on state tax collections, maintained its earlier estimate that revenue for 2020 would decline by 7 percent compared to last year.
That reduction is expected to linger through 2021.
Council member and economist Carl Bonham said yesterday that the pessimistic forecast was driven by massive uncertainty over international travel and the prospect of additional fiscal stimulus from the federal government.
"Obviously the bottom line is if we don't get our own outbreak under control, no one is gonna want to travel bubble with us and the community is not going to want to open to tourism. There's too many unknowns," he said. "The really big issue that could change everything is testing capacity and new faster tests. That would improve people's willingness to travel and allow us to relax quarantine rules."
The state government is facing a revenue shortfall of more than $2 billion. Lawmakers covered some of that by reallocating existing funds, but also authorized the Governor to borrow money from the U.S. Federal Reserve.
Gov. David Ige has not ruled out the possibility of pay cuts or furloughs of state workers.
--HPR's Ryan Finnerty
Governor line item-vetoes $100 extra in jobless benefits pending Congress action
An extra $100 a week in unemployment benefits approved by state lawmakers won't go into effect, at least not immediately.
Gov. David Ige line item-vetoed $230 million earmarked by the Legislature in Senate Bill 126 to pay for the benefit to partially make up for the federal $600 Plus Up unemployment benefit that expires today.
Ige said it's uncertain if Congress will approve additional unemployment assistance and until there's more clarity, the state will put off creating its own program for relief.
Other line item-vetoes in the budget bill will:
• Decrease the appropriation out of the Emergency and Budget Reserve Fund, also known as the rainy day fund, from $90 million to $70 million for airport screening and health assurance security. The governor said the state Department of Transportation determined the lower amount would be sufficient to test, verify and monitor travelers.
• Lower the amount set aside out of the reserve fund from $100 million to $50 million for housing and rental assistance after the Hawaii Housing Finance and Development Corp. determined the smaller amount would be sufficient to start a program for housing relief.
• Decrease the sum appropriated out of the reserve fund from $100 million to $61 million to buy and distribute personal protective equipment to hospitals, child care facilities, elderly care facilities, businesses, schools and nonprofits. The state Department of Defense said the lower amount is sufficient for PPE and the remainder will be used for sanitation and disinfectant supplies.
Following usual practice, the governor returned the unsigned S.B. 126 to the Legislature with the line-item vetoes. He will then sign and submit the measure with the line-item vetoes today.
--HPR's Sandee Oshiro
This is a developing story. Please check back for upates. Editor's note: We'd like to hear how you're coping with the latest COVID-19 developments and the state's phased reopening. You can call our talkback line at 808-792-8217. Or e-mail us at talkback@hawaiipublicradio.org.