Listening To Neighbors: Life As We're Living It
The daily stream of COVID-19 news is unending. In its rigid grip, we can easily miss the Hawaii stories of struggle and quiet heroism that are playing out in our backyard. Here is a compilation of voices we've heard. And we look forward to hearing yours. Call our talkback line at 808-792-8217 or e-mail us at talkback@hawaiipublicradio.org.
Alan Kinuhata: Businesses Hit Hard By Recession Still Face Challenges
Nov. 16, 2020: Hawaii has been hit hard by the COVID-19 recession, with tourism-related companies being especially impacted. Events, Services, and Productions Hawaii , or ESP Hawaii, provides support to event organizers and tour companies catering to Japanese visitors. Alan Kinuhata owns the family run business and told HPR that 2020 has been a bruising year with more challenges to come.
-HPR's Ryan Finnerty
Bells Toll For Thee: One COVID-19 Widow Says It's Real
Nov. 1, 2020: At Central Union Church, on All-Saints Day, the bells tolled 228 times -- one for each person who has died from COVID-19 in Hawaii. Nearby, a wife grieved for her husband. He had passed away from the virus just two days earlier.

--HPR's Sandee Oshiro
"This Isn't Just A Mainland Issue," Black Residents Say Systemic Racism A Problem In Hawaii
Protests against police brutality and anti-black discrimination are continuing across the country, following the death of a Minneapolis man in police custody. African American residents say the problem is present in Hawaii too, despite the widely-held perception that race is less of an issue in the islands. Oahu residents Dey Childs and Kylah Hughley organized a protest in solidarity with the Black Lives Matter movement at the State Capitol to draw attention to the issue facing black residents of islands.
-HPR's Ryan Finnerty
Square Barrels co-owner Thomas Ray: Reopening Dine-In Service
June 3, 2020: Honolulu and Maui restaurants can reopen this Friday. While some may not be ready to resume dine-in service, some are. That's the case for Square Barrels in Downtown Honolulu. Co-owner Thomas Ray is excited to reopen his dining room, but he points out that local restaurants are not out of the woods.
barl_060320.mp3
Thomas Ray, co-owner of Square Barrels in Downtown Honolulu.
--HPR's Casey Harlow
Mary Garrett: Second Grade Teacher at Honokaa Elementary
May 28, 2020: As the state scrambled to cover a revenue shortfall due to the COVID-19 outbreak, Gov. David Ige floated the idea of a 20 percent pay cut for state employees, including teachers. After hearing about the potential pay cuts, Mary Garrett, a second grade teacher at Honokaa Elementary on Hawaii Island has decided to leave Hawaii after teaching here for four years to return to her home state of North Carolina.
Mary_521.mp3
Mary Garrett, second grade teacher at Honokaa Elementary, has decided to leave Hawaii after teaching here for four years after hearing about a potential 20% pay cut to teacher salaries.
--HPR's Ashley Mizuo
Regina Chang: Pan Am Espresso Bar
May 14, 2020: Retail stores in Honolulu can reopen Friday. While retailers have new health and safety procedures to follow, some essential businesses have been operating with them throughout the pandemic. For Regina Chang, operator of Pan Am Espresso Bar, staying open at the height of the stay-at-home order was about providing respite and hope to residents.
cafe_051420.mp3
Regina Chang, operator of Pan Am Espresso Bar in Honolulu, talks about why she remained opened during the height of the stay-at-home order.
--HPR's Casey Harlow
Dr. Elliot Kalauawa, Chief Medical Officer at Waikiki Health
May 13, 2020: Waikiki Health is a non-profit medical provider offering healthcare services in urban Honolulu. The group says it provides healthcare, regardless of a patient's ability to pay, and services are priced based on the recipient's income. Despite physical and financial challenges, Waikiki Health has remained open throughout the pandemic. The organizations leaders say they are proud to not have instituted any staff furloughs or layoffs.
dr_elliot_kalauawa_for_web.mp3
Dr. Elliot Kalauawa, Chief Medical Officer at Waikiki Health, describes struggles obtaining PPE and retooling operations for the COVID-19 pandemic.
--HPR's Ryan Finnerty
Logan Okita: Nimitz Elementary 1st Grade Teacher, HSTA Secretary-Treasurer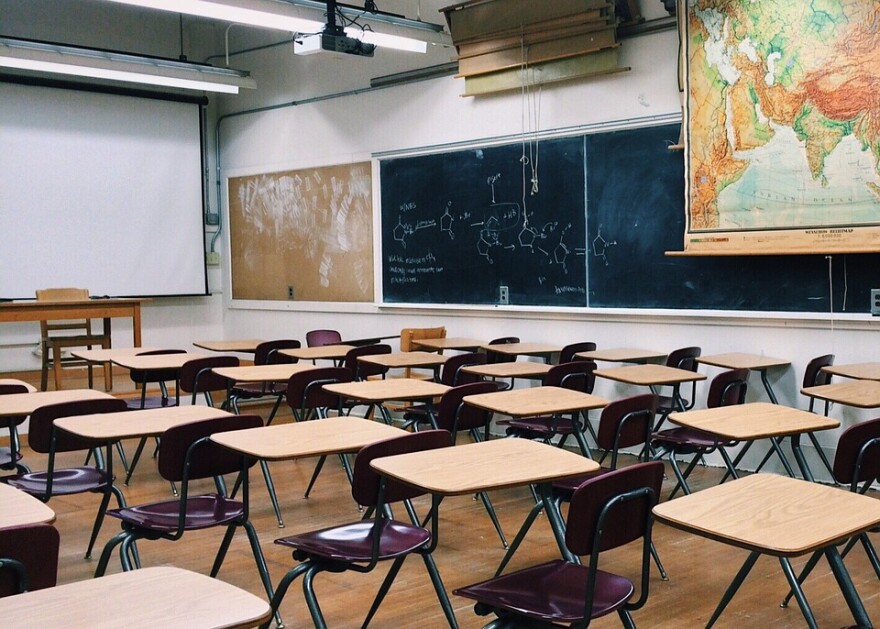 April 19, 2020: The state Department of Education won't be holding in-person classes for the rest of the school year as part of the effort to stop the spread of COVID-19. Many teachers, Logan Okita among them, didn't realize that when they said goodbye to their students before spring break, that it would for good. Here she speaks at a press conference for the teachers union, the Hawaii State Teachers Association.
okita_41920.mp3
Nimitz Elementary School teacher Logan Okita last saw her students before the spring break. She describes what that's been like and how distance learning has been going with her class.
--HPR's Ashley Mizuo
Rasa Priya Thom: Respiratory Therapist On The Front Line
April 17, 2020: Dozens of workers and patients have tested positive for the coronavirus at Maui Memorial Medical and the numbers continue to grow. It's stressful and dangerous for those on the hospital's front line. HPR's Ashley Mizuo spoke with one of the hospital's respiratory therapists about his daily experience. Just a warning: his descriptions may be upsetting for some.
Maui_041720.mp3
Maui Memorial Medical Center respiratory therapist Rasa Priya Thom talks about his experience and life at the hospital.
--HPR's Ashley Mizuo
Howard Higa: TheCab Built Up Over Decades, Coming Undone In Weeks
April 17, 2020: Rideshare services forced the taxi industry to find a new way to do business. But just when cab companies seemed to find a new normal, the coronavirus pandemic struck. HPR's Casey Harlow recently sat down with TheCab owner Howard Higa to talk about the challenges his business is now facing.
cab_041720.mp3
Howard Higa, owner of the taxi company TheCab, talks about the impact of the coronavirus crisis on his business.
--HPR's Casey Harlow
Shaun Peck: Co-owner of Start-Up Paradise Ciders Facing Uncertain Future
April 14, 2020: Hawaii businesses large and small are feeling the impacts of COVID-19. Paradise Ciders, a local hard cider producer, saw the effects almost immediately as bars and restaurants closed and orders dried up. While the company's future is uncertain, its owners remain hopeful.
para_041420.mp3
Shaun Peck, co-owner of Paradise Ciders, talks about how the company is faring in the face of the coronavirus.
--HPR's Casey Harlow