Talk Shows:Listen again to your favorite talk programs on HPR-2!Local News:News features and series from HPR's award winning news departmentHPR-2 Program Schedule:find out when all your favorite programs are on the air on HPR-2! Or you can find out more from the HPR-2 detailed program listings.
Pentagon Begins Process of Identifying Remains of USS Oklahoma Sailors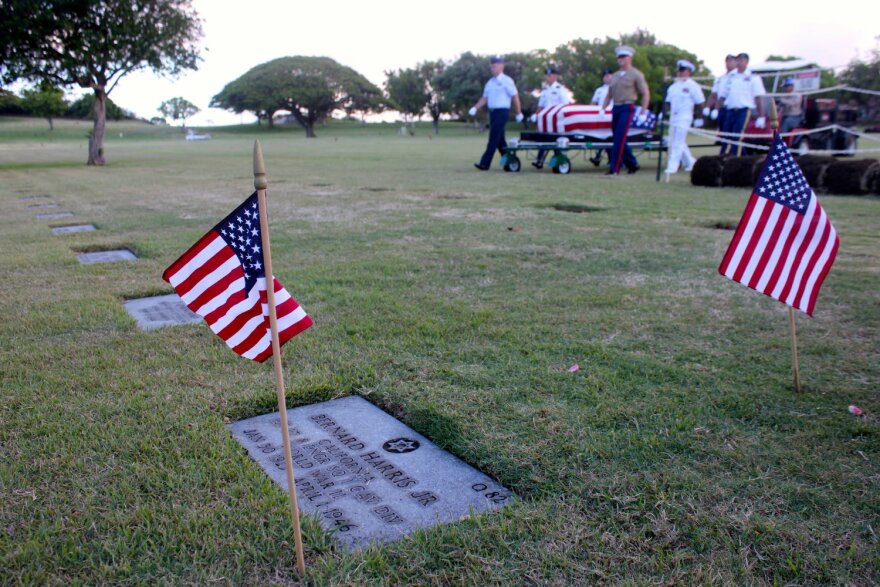 Hundreds of sailors and Marines were killed on board the USS Oklahoma during the attack on Pearl Harbor. They were remembered at a ceremony Monday at the National Memorial Cemetery of the Pacific. And as HPR's Molly Solomon reports, for hundreds of families, it's a first step towards closure.
The only sounds at the service were the marching steps of an honor detail. The soldiers raised their arms in salute after draping an American flag over one of five coffins at the national cemetery, where they have laid for decades.
"This is very special and personal for me," said Gene Maestas, the cemetery's Public Affairs Specialist. "I'm a third-year Coast Guard veteran and I want to do everything possible to make sure my brothers and sister's remains are honored and that they're handled in the most dignified manner. And that we do our small part in getting those remains back to the families."
In all, 429 crew members aboard the U.S.S Oklahoma lost their lives in the 1941 bombing of Pearl Harbor. Only 35 were identified at the time, with the majority buried in graves marked as unknown. Today's service, what the military calls a dignified transfer ceremony, is part of a push to name them all. "To see our nation's commitment to honoring those who served in the past and providing fullest possible accounting for their families," said Michael Linnington, who leads efforts for the Pentagon's Defense POW/MIA Accounting Agency. "It just demonstrates everything that makes our country great."
Linnington says the identification process will take time. After consulting dental records at the lab in Hawai'i, the remains will then be sent to Omaha, Nebraska for further DNA-testing. "DNA testing is a complicated process," said Linnington. "But the technology has really improved greatly in recent years -- that's why we're doing this. We're very optimistic about the identification process that will take place over the next couple years."
The department plans to exhume 61 caskets from the Punchbowl cemetery by October. Linnington expects the DNA analysis will take about 5 years to complete. Relatives of close to 85 percent of USS Oklahoma soldiers supplied DNA and family records to the agency to help identify the remains. "Obviously, it's what the families want to do," said Linnington. "They want their loved ones home and we're happy to help them in that process."
And after waiting more than seven decades, families of these fallen soldiers are eager for that day to arrive.