Japanese Prime Minister Shinzo Abe Makes Historic Visit to USS Arizona Memorial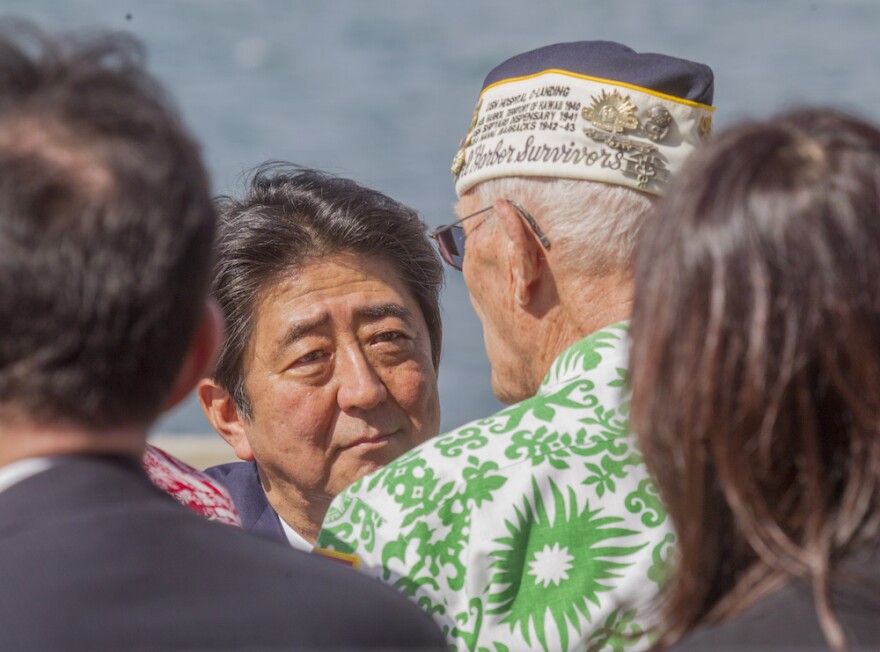 The leaders of the United States and Japan visited the USS Arizona Memorial together for the first time since the December 7 surprise attack on Pearl Harbor. HPR's Wayne Yoshioka reports.
Japanese Prime Minister Shinzo Abe laid a wreath of Anthuriums at the USS Arizona Memorial. Abe is the first Japanese prime minister to visit the sunken battleship while in office. Addressing dignitaries and survivors through an interpreter, he expressed his sorrow for all who died in World War II and reaffirmed his nation's commitment to peace.
"We must never repeat the horrors of war again. To the souls of the service members who lie in eternal rest aboard the USS Arizona, to the American people, and to all peoples around the world, I pledge that unwavering vow here as the prime minister of Japan."
Abe did not offer an apology for the 1941 surprise attack but neither did President Barak Obama earlier this year when he visited Hiroshima where the U.S. dropped its first atomic bomb in 1945. Instead, the President echoed Abe's message of reconciliation.
"The character of nations is tested in war but is defined in peace. After one of the most horrific chapters in human history, one that took not tens of thousands but tens of millions of lives, with ferocious fighting across this ocean, the United States and Japan chose friendship and they chose peace."
The President recognized Pearl Harbor survivors and World War II veterans in the audience. After their joint remarks, the President and Prime Minister greeted some of the survivors including 95 year-old
Sterling Kale, a hospital corpsman at the Naval Shipyard in 1941.
"The Prime Minister, he didn't say anything in English but he gave me a big hug. And I didn't expect the Prime Minister to give me a hug. I don't think he gives everybody a hug."
Kale says he has no hard feelings toward the Japanese. Ninety-six year-old Pearl Harbor survivor, Al Rodrigues, agreed.
"I have no animosity at all. I was born and raised here in Hawai'i and went to school with Japanese; my schoolmates were Japanese. My first wife was Japanese, so I know how to get along."
Former Governor, George Ariyoshi, who served in the Military Intelligence Service during World War II, says Prime Minister Abe and President Obama are building on a strong alliance, looking forward.
"Now that they both came to Pearl Harbor, today's ceremony was an effort to pay respect to those who suffered and who passed on but at the same time to make that the foundation for the future."
Ichinobu Oshiro also served in military intelligence in post-war Japan. He was Senator Mazie Hirono's 6th grade teacher. Oshiro says reconciliation requires an effort from both nations.
"You got the word, apology, to me is not a word to use but from here we continue our bond and strong relationship that we have."
For HPR news, I'm Wayne Yoshioka.