Conservationists are diligently controlling coconut trees, restoring the ecosystem on Palmyra Atoll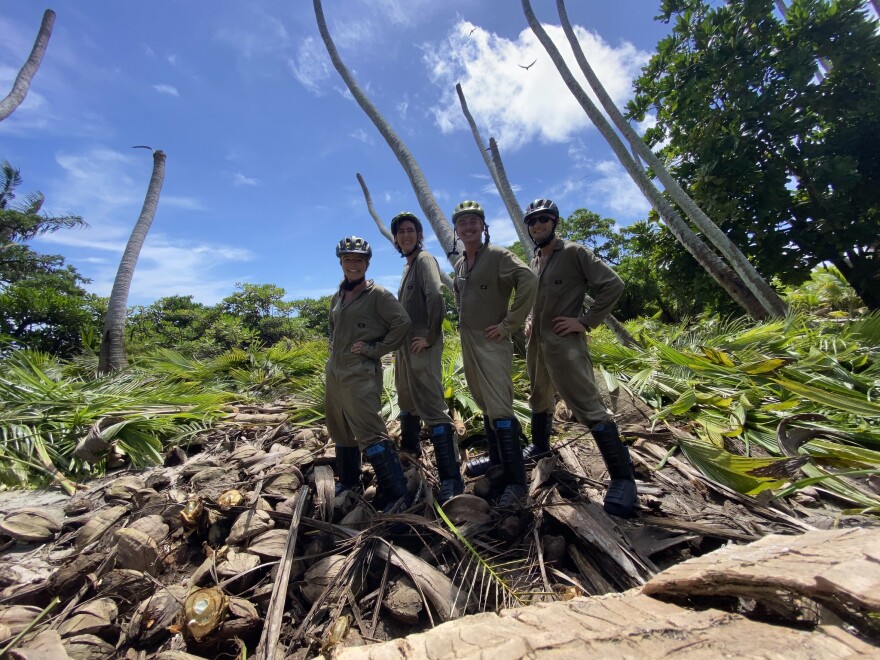 When invasive rats were removed from Palmyra Atoll, about 1,000 miles south of Hawaiʻi, coconut palms proliferated — crowding out native trees. Conservationists working to restore balance in the rainforest recently announced they're halfway there.
"Once we got rid of the rats in 2011, that biosecurity was like gone. So there was actually like a biocontrol — the rats were controlling the coconuts," said Stefan Kropidlowski, deputy superintendent for the Pacific Remote Islands Marine National Monument.
Those rats fed on nuts dropped from introduced coconut palms all over the atoll. The history includes several attempts to grow coconuts commercially — going back about 150 years.
"After that, we were getting several million nuts being thrown down on the ground, and all of them were sprouting every year after that. So that's when the problem began — when all those nuts started piling up and spreading out further and further, and out-competing all the native forest trees," he told Hawaiʻi Public Radio.
By 2016, an estimated 29,000 adult palms and two million seedlings covered the atoll's islands.
"Coconuts by themselves on a natural level would have been perfectly fine. It's only when they form that monoculture that they become an issue," he said.
He said it's taken a herculean volunteer effort to control the palms and help manage the atoll's ecosystem.
Full-time volunteers have spent months removing coconut palms, planting native trees, and cultivating native seedlings, The Nature Conservancy said. As of October, roughly 1 million coconut palms have been cleared.
Since the palms hold nutrients for the ecosystem, trunks are left standing with injected herbicide and the fronds are cut down — left to deteriorate on the ground. Small seedlings and juvenile palms are also being removed.
"A million palms being cleared is definitely a milestone to hit. Our initial estimate is we had 2.14 million coconuts at Palmyra Atoll and our goal is to remove all the coconut monocultures and about 99% of the palms altogether, leaving still a couple of thousands," Kropidlowski said. "We're just trying to even the playing field a little bit for the native trees."
Completion of the project to control the remaining million trees is estimated by 2024, The Nature Conservancy said.
The Palmyra Atoll Rainforest and Reef Resilience Project is a partnership between The Nature Conservancy Hawaiʻi, Island Conservation, and the U.S. Fish and Wildlife Service. This interview aired on The Conversation on Nov. 3, 2021.