The Conversation: Friday, June 24th, 2016
Coral Reef Symposium; Studying Sharks; Collusion Among Contractors for School AC; Rising Stars Showcase
Coral Reef Symposium: Hugh Possingham
ba_hp062416_.mp3
Hugh Possingham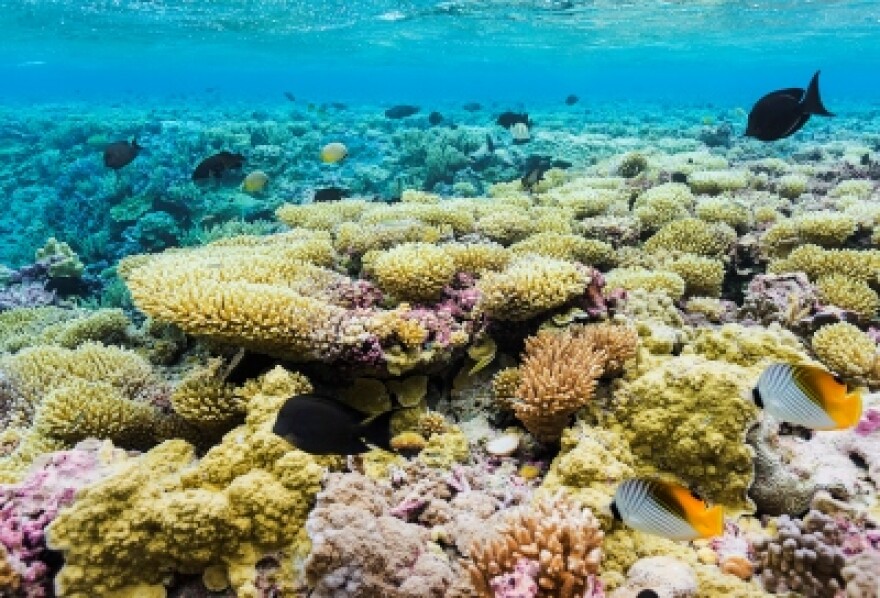 Today the 13th International Coral Reef Symposium comes to an end. As with all conferences, this one will likely finish with calls to action and a renewed commitment to the world's coral reefs, but after the conference high wears off, what are the actions we're most likely to see? Hugh Possingham heads the Nature Conservancy and joins us now with his list of takeaways.
Intro Music: I'll Fly Away by Ralph Stanley
Outro Music: Over the Rainbow by St. Martin's Symphony
Studying Sharks: Dr. Michael Domeier
CV_MD062416.mp3
Dr. Michael Domeier
Much of our current fear of sharks comes from a species few people have ever seen: the oceanic white tip shark, a predator whose population has been depleted by commercial fishing. Michael L. Domeier, President of the Marine Conservation Science Institute in Waikoloa, has studied their behavior at first hand: well enough to know that they live up to their fearsome reputation. His research is part of an upcoming television Shark Week segment, and he told us what a close encounter with an oceanic white tip feels like.
Intro Music: Just the Way You Are by Sax Hit Players
Outro Music: Open Bay by Sharks Keep Moving
Collusion Among Contractors for School AC: Rep Matt LoPresti
BA_RML062416.mp3
Rep Matt LoPresti
This year's legislative session ended with lawmakers appropriating a hundred million dollars to cool a thousand classrooms by the end of this year. Now it appears the anticipation of a more educationally-friendly climate will be delayed. This week, came the announcement that the bids for the work all came in well over budget… and the reopening of the bid process won't happen until next year. That has one lawmaker steamed. Rep. Matt LoPresti is asking the state AG to look into whether there was gouging; moreover he's looking for volunteers and businesses of goodwill to make the project happen with a realistic timeline and at a reasonable cost.
Intro Music: Drug Induced Poetry by Felly
Outro Music: Someone like you by Piano Tribute Players
Rising Stars Showcase: Bailey Hutton
CV_BH062416.mp3
Bailey Hutton
You don't know what you're capable of until you try -- and if there's one important message that comes out of children's theater camp, that's it. Young people who make the leap into the theater arts often surprise themselves with capabilities they never knew they had. It's a phenomenon Bailey Hutton has witnessed again and again as Program Director for Hawaii Children's Theater's Summer Stars. A group of Kauai kids who are about to put on their first show.
Intro Music: Yo No Creo en Los Hombres by Diana Reyes
Outro Music: The Music Man Overture by Vern Reed