'Why Is There So Much Red Tape': Honolulu's Relief Fund Creates Anxiety And Confusion For Some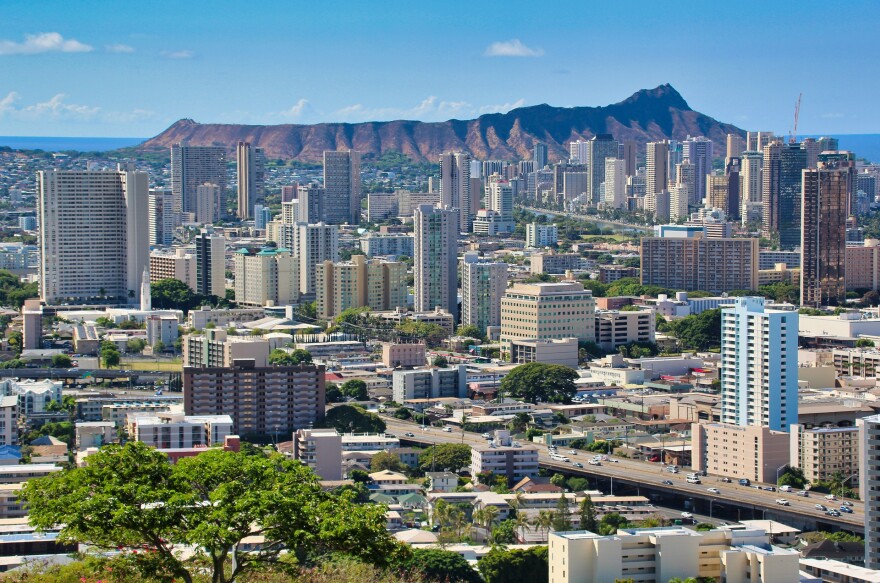 Honolulu is still trying to spend down federal CARES Act funds by December 30 to help households impacted by the pandemic. But city relief hasn't come for months, with little to no explanation for some who applied.
Krista Vessell has been trying to make ends meet since March.
She left her job as a bank teller after suffering a nervous breakdown that she says stemmed from long work hours, family responsibilities, and added stress, and fear, caused by the COVID-19 pandemic.
Vessell decided to home school her children after they fell behind when classes moved to remote learning earlier this year.
Due to complications with her former employer and the state unemployment office, she is not able to claim any unemployment benefits.
Her husband -- who has a disability -- is also unemployed.
While his monthly disability check is barely keeping the family afloat, it can't cover all their expenses.
"Once I heard that they [the city] were going to be opening up the Hardship Relief Fund to help people with rent, I was like 'Oh, that's exactly what we need right now.'"
Applying for relief
On May 18th, the city's Household Hardship Relief Fund was launched to help families like the Vessells, those greatly impacted financially by the pandemic.
The city relied on Aloha United Way, Helping Hands Hawai?i, and the Council for Native Hawaiian Advancement to administer the fund's $25 million in CARES Act aid. When the program was first launched, it aimed to provide up to $1,000 a month for rent and utilities, and another $500 for childcare.
The program covers up to six months of expenses for those who qualified.
But Vessell says when she inquired about the program through the Aloha United Way's 2-1-1 on May 19th, she didn't hear back until almost a month later.
"Honolulu Habitat (for Humanity) actually sent me an email with a Google form application to complete," she said.
Vessell says she completed the form, with the necessary documents and provided additional paycheck stubs to demonstrate her family's financial hardship. After several days of silence, she reached out to Honolulu Habitat for Humanity to ensure they received her application.
"I was told, by the caseworker who was assigned to us, that she couldn't access any of the documents I had sent in my email," Vessell said. "So I forwarded them again."
Vessell says she received an email from the caseworker a week later, requesting her to again complete the application and send the necessary documents. She, again, filled out the application and submitted them.
"On June 30, I got another email, requesting that info sheet be filled out again," she said. "So I just asked her, 'Why? From the 12th to the 30th, I've sent this in two times and I'm being asked to send it again.'
"She said, 'Okay, I got it.' And she needed updated bank statements to submit."
Vessell says she finally got confirmation from Honolulu Habitat for Humanity on July 6 that her application for the month of July was submitted by Aloha United Way. She was told she would receive a confirmation call or email when the relief check was sent to her landlord.
"That didn't actually happen until September 1," Vessell said.
That would be the only time she would receive any confirmation that she received relief from the city's program.
City defends the program
In July, the city increased the amount qualified households could receive from $1,000 a month for rent and utilities to $2,000. It also eased certain requirements to help streamline the application process, and help more families in need.
The program was established quickly, and that presented challenges, said Becky Soon, deputy director for the city's Department of Community Services, which oversees the fund.
"We were trying to build this wa?a while we're canoeing it across the ocean," she said. "It did cause [delays] in every area of the technological system, to having to increase and train staff, to having to work through program requirements."
Soon said each step in creating and operating the program came with its own challenges and barriers that needed addressing, adding to the time and delays in processing applications.
The city relied on existing programs at the Aloha United Way, Helping Hands Hawai?i and Council for Native Hawaiian Advancement as a model for the city's hardship fund. The reasoning was these organizations specialize in helping O?ahu's most vulnerable and had processes and staff in place to handle what was required.
But Soon says there were still challenges in the beginning.
"The amount of documentation that the normal program process might require was going to be more than what our families could handle during this time," said Soon. "And certainly more than what our system could handle."
According to Soon, processing applications for the city's program could take anywhere from two to six weeks. But she did acknowledge that there have been instances when it took longer.
"A lot of it depends on the documents that have been submitted," she said.
Soon also said delays could have been caused by the providers being unable to balance the services they normally offer and the added responsibility of the city's program.
Up in the air
While the city believes improvements have been made to the program, Vessell said she didn't see that.
"You're lucky to speak to a person," she said. "I tried to call -- nothing. Voicemail's full -- can't leave any voicemails. Nobody responds to that email address."
Throughout the fall, Vessell says she applied for relief and reached out to various organizations and people to get updates on her applications. Most of the time, she did not receive a response or didn't get any answers to her questions.
She eventually made a contact at Gregory House Programs, which is helping her through the process and giving her updates. Vessell was then pointed to the state's rent relief program, because the city's hardship fund was no longer accepting applications.
Vessell says there is still confusion with the state's rent relief program, and she cannot get a hold of anyone at Aloha United Way.
As of yesterday, the city has distributed $18 million of the fund's $25 million.
Soon estimates $2 million is being distributed to local families a week. And she anticipates the remaining funds will be distributed before the end of the year deadline.
For Vessell, the process has left her overwhelmed, exhausted and frustrated. And after all that, she says she only wants to know one thing: Why?
"Why, when the city and state receive all this money, why wasn't it planned out to dispense it to people who need it? Why is there so much red tape to try to get help when you need help?" she asked. "It's not like we're people who are just milking the system here. We're people who are already struggling, and it's documented."
"I've always been the kind of person who, if something's not right, I'm not afraid to fight about it," Vessell said. "But this year, and this in particular, I literally feel beaten down."
"I don't know what to do, because I've had my nervous breakdown. And almost every day I feel like I'm on the verge of it again."
Vessell says she still doesn't know if she's been awarded relief for any of the months after July.
The Aloha United Way, which administers both the city's Household Hardship Relief Fund and the state's rent relief program, declined to be interviewed for this story.