Racial Disparities Emerge In HPD Enforcement Of Stay-At-Home Violations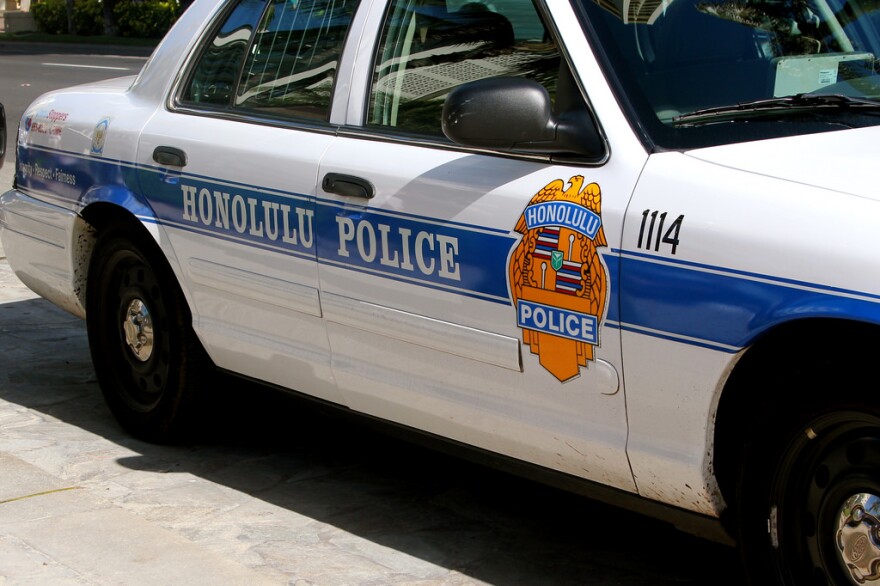 Honolulu police officers arrested Micronesians, Samoans and Blacks for violating the COVID-19 stay-at-home orders in marked disproportion to their representation in the general population, a Hawaii Public Radio investigation found.
Hawaii Gov. David Ige and county mayors ordered residents statewide to remain at home beginning in March, except for essential activities such as shopping for food and going to the doctor -- all in an attempt to slow the spread of the coronavirus.
People who violated the emergency orders faced a misdemeanor charge carrying a maximum fine of up to $5,000 and a year in prison. HPR looked through hundreds of pages of Honolulu Police Department logs to find out just who was arrested.
Of the people arrested, Miconesians were disproportionately represented. Twenty-six percent of those taken into custody facing a charge of violating the orders came from the largely immigrant community, although they make up only about 1% of the state's population.
Josie Howard, program director with We Are Oceania, the Micronesian community advocacy group, has a few theories regarding why so many Micronesian people were arrested.

"Why is it that it's Micronesians who made up the majority on that list when we have the smallest percentage of our population?" she asked. "The three top things I thought about is one is the gap in cultural proficiency, the lack of language and could it be because they're Micronesians, they were targeted."
She said while she thought the state tried hard to get information about COVID-19 and the emergency orders out to the Micronesian community by communicating in multiple languages, many people do not have access to a phone or internet and may have missed the safety messages.
"We found that more and more people have lost their phone services," she said. "A lot of people have not received their unemployment payments, so they're really, really stretched thin with their financial support."
Members of the Black and Samoan communities were also arrested at a proportion greater than their representation in the population.
Those who are Black make up only about 2% of the state's population at large, but accounted for about 6% of those arrested. Samoans comprised 3% of the general population and about 8% of those arrested.
Native Hawaiians made up 15% of those arrested, but are underrepresented with 21% based on the general population data used for this story.
There was also a large cluster of arrests in the lower-income neighborhood of Kalihi, more than for other parts of the island.
Homelessness during the emergency
Beyond the racial disparities, records also suggest that many who were arrested for stay-at-home violations may have been homeless.
"If you go to the electronic court records system and you look up their names, some of them would have other citations for things like sit lie, or for being in parks after hours," said Mateo Caballero, American Civil Liberties Union of Hawaii legal director. "That pretty much would confirm that the proclamations were being enforced against people experiencing homelessness."
HPR searched through the court records of all the people arrested and found that about 20% had those types of charges in their backgrounds -- meaning, they were likely homeless at some point.
The emergency orders exempted people experiencing homelessness, so it's not clear why they would be charged with stay-at-home violations. Many were also simultaneously charged with other infractions, such as violation of park closures.
Because so many of those arrested on violating the emergency orders also had contempt of court offenses, Caballero further suspects many were homeless.
"During the daily sweeps, most people end up getting tickets or citations. And then for any reason they cannot show up to court because, for example, they are working or they are afraid of leaving things alone because a sweep might come in and they will lose everything they have," he said, "then there will be an arrest warrant or a warrant for their arrest because they didn't show up to court."
Of those arrested who had indicators of homelessness in their court records, about 60% were cited multiple times for violating the stay-at-home orders. One person was cited on seven separate occasions.
While the stay-at-home arrests are misdemeanors, even minor violations can trap low-income people in the criminal justice system, Caballero said. If they are unable to pay accumulated fines, for example, they can face even harsher penalties.
Arrest data raises quarantine enforcement issues
The data on emergency order arrests should raise serious questions for local officials, said Victor Geminiani, retired lawyer with the Hawaii Appleseed Center for Law and Economic Justice and Legal Aid Society.
"The disparate impact appears to be so significant in terms of racial minorities and people that are lowest part of our economic structure, to the poorest in the state," he said. "I think our leaders have to really question what's the purpose of enforcement of this quarantine?"
The Honolulu Police Department said the emergency orders were enforced based on public complaints and the violators' actions.
"We routinely receive complaints regarding individuals in the park, either when the park was closed and are involved in illegal activity, and basically this type of behavior just continued during the emergency proclamation," said HPD Assistant Police Chief Lisa Mann.
When asked if the arrest numbers might prompt changes in HPD's police practices, department spokeswoman Michelle Yu had this to say:
"I think we're always looking for ways that we can do things better. But you know, I'm not really sure how to respond to that question. We're always re-evaluating our actions and our programs. So if there's any way that we can improve it, we would certainly look into that."
HPD Police Chief Susan Ballard was not made available to comment on this story, but said during a June 17 https://youtu.be/kRhqi5LtWRg?t=1595">police commission meeting following the Black Lives Matter protests that she would consider implicit bias training to address unconscious attitudes and stereotypes within the police force.
But she added it may be more of a Mainland issue than a local one.
"If it's something that will help the officers and it's something that we'll expand on our bias based training, it can only help, right? Here in Hawaii, one thing is that we've got no shame about talking about race. We talked about race all the time," she said. "Does this affect us here in Hawaii? I mean, it does, but a whole lot less than on the Mainland."
Caballero said the arrests made during the emergency orders show that Hawaii is not an exception to the country's policing problems raised in the wake of the death of George Floyd, the Black Minneapolis resident killed by a police officer.
"In Hawaii, police officers discriminate in terms of where they go and how they police. And not only in terms of race, but also in terms of wealth. It's not just houseless people who are disproportionately policed. It's also working class neighborhoods and poorer areas where you have police officers are constantly present," Caballero said.
"Even though these stay-at-home orders were supposed to be enforced across the board, I saw a number of people of all races in all neighborhoods violating the orders, and yet Kalihi and some public housing areas were more heavily enforced."
Honolulu Mayor Kirk Caldwell said in a statement that he supported Ballard and the HPD in their enforcement of the emergency orders, but would like to better understand the demographic data.
"The city should always be sensitive when it sees these types of trends and to figure out what's behind them," he said. "Under no circumstances should profiling or racial bias be tolerated."